The mandatory sauna
Luxembourg National Day in Beijing is always celebrated in the sticky hot month of June. Real sauna weather. But I normally never miss it!
This year on 20 June 2019 I convinced Sun Bin to join me, with the excuse I needed help in my (still) sorry state, with my wrecked collarbone.
As usual the garden of the residence, hidden in a hutong (Nei Wu Bu Jie, close to Middle School Nr. 2), was full of guests.
Meeting friends
Good to stumble on some friends, including our Belgian Ambassador M. Vinck; Harvey, Sydney, Ignace (Mr. TRB!), Mark and others. Sydney did his rounds meeting the U.S. and Luxembourg ambassador, among others.
A sentimental visit
I do have a special connection with the residence, as I became close friends with the first Luxembourg Ambassador in Beijing, Carlo Ketter, his lovely wife and the first secretary to the Ambassador, Dory. We all stayed in the Beijing Hotel, different buildings, where we met many times for lunch or a drink. He often told me about his challenges getting the building ready to open the embassy. That time electric power supply in the area was erratic; mice had also made a home there. I understand the building was formerly used by the Pakistan embassy. In the first years the compound also housed the embassy. Later the embassy offices moved to the new office on Gongti Bei Lu.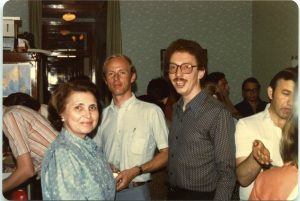 See one of the pictures I managed to dig up: Mrs. Ketter, attending my small party in my home/office in the Beijing Hotel, on 27 June 1981.
I passed on my story to the current Ambassador Dr. Marc Hübsch who later invited me to his residence for a private talk. In his speech that day he mentioned the 40 years of history China-Luxembourg, and the first ambassador, without mentioning his name.