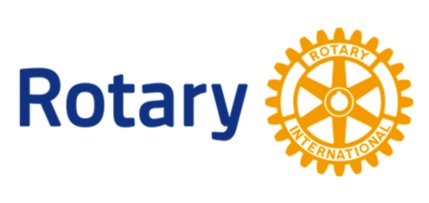 Note: this is not the official website, just a personal recap by Rtn. Gilbert.
Updated 29 May 2015
Rotary is an international service organization with more than 34,000 clubs around the world and a membership of 1.2 million business and professional leaders. Rotary provides humanitarian service and contributes to building goodwill and peace in the world.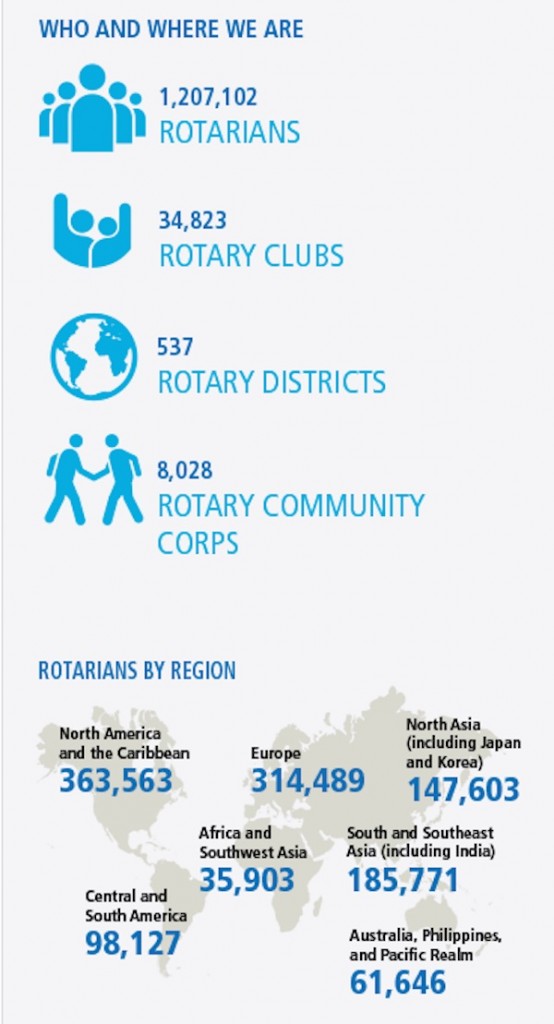 2014-2015 President of Rotary International: Gary C. K. Huang – Rotary Club of Taipei.
About Rtn. Gary: https://www.rotary.org/myrotary/en/member-news/office-president/ri-president
Read more at the following websites:
www.rotarychina.org
www.rotaryclub-beijing.org
www.rotaryshanghai.org
History of Rotary in China
Rotary was well established in China before the Second World War. The Rotary Club of Beijing was first established on 30 August 1924 as the third club in China, with clubs having already been established in Shanghai in 1919 and Tianjin in 1923. Rotary had established a total of 32 clubs across the country but it had to discontinue its activities after the change of government system in China in 1949. See down below a small snippet of the past history.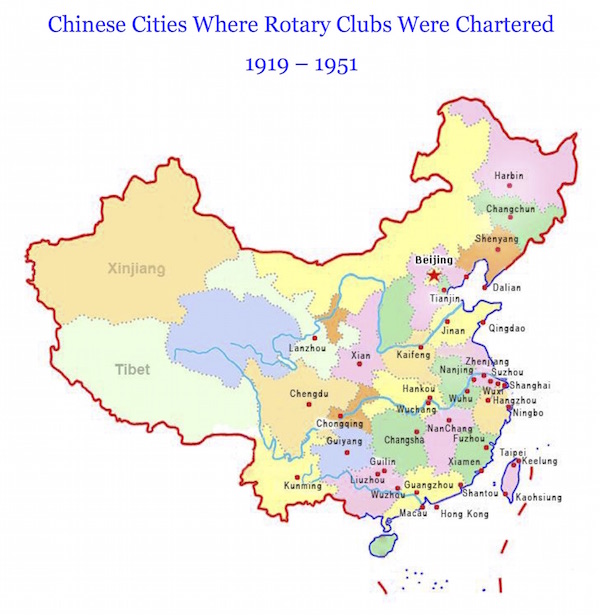 See more here:
Chinese_Cities_Where_Rotary_Clubs_Were_Chartered_1919_1951
Rotary came to a stop during the years that followed 1949. The club was re-introduced as a fellowship group in Beijing in 1996, by a group of Rotary Hong Kong expatriates working in Beijing.
In June 2001, Rotary International formally recognized the clubs of Beijing and Shanghai and granted them provisional status. The Clubs were chartered in 2006. The Chinese Ministry of Civil Affairs previously only agreed to the existence of the two Rotary Clubs – Beijing and Shanghai. We expect to have a new club in Guangzhou; for this purpose Rotary International places Guangdong Province, People's Republic of China, within District 3450 and revises District 3450 as follows: Hong Kong, Macau, Mongolia, and Guangdong Province (PRC).
In September 2014 RI President Gary officially chartered the Rotary Club of Chengdu.
As per April 2015:
Chartered
– Rotary Club of Shanghai, 1 Oct 1919
– Rotary Club of Beijing, 30 Aug 1924
– Rotary Club of Chengdu, 21 Sep 2014
– Rotary Club of Shanghai Fresh Start, 15 January 2015
– Shanghai West Rotary Club: 25 charter members; chartered after solid efforts by CP Richard Zi (a Past President of the Rotary Club of Taipei).  Our first Chinese language Rotary club in Shanghai and on the Chinese mainland; chartered 10 March 2015
Provisional
– Provisional Lujiazui Shanghai Rotary Club (charter application on the way)
– Provisional Rotary Club of Suzhou – meeting weekly in the Kempinski hotel in SIP, Suzhou
Fellowships:
– Kunshan (meeting bi-weekly, Chinese language), Beijing Mandarin and Dalian Fellowships (weekly meeting)
– New Chinese language fellowships in Nanning, Guangxi province and Xiamen, Fujian province are in the works.
– April 2015: startup of two new fellowship groups of Rotarians to meet in Chengdu and Tianjin.
– Rotarians interested to start in Nanjing, Qingdao, Jinan, and Chongqing
Rotaract Clubs:
– Beijing Rotaract Club
– Shanghai Rotaract Club
– Hult Shanghai Rotaract Club
– Rotaract Club of NYU Shanghai, under the leadership of Club President Hunter Jarvis, a former Rotary Youth Exchange Alum.
Interact Clubs (under 18 years)
– Beijing – Dulwich College Interact Club
– Shanghai Community International School (Pudong) Interact Club
– Shanghai American School (Pudong) Interact Club
– Shanghai Nanyang Model High School Interact Club
– Oxford International College Changzhou KS4/5 Interact Club
– Oxford International College Changzhou KS3/4 Interact Club
– Soon: Interact club in Shanghai High School International Division, with the charter president being the son of Shanghai club secretary Moto.
Rotary China Team – a few of the key officers.
Special Representative for Beijing and Shanghai – PP Randal Eastman
Assistant Special Representative – PP Roger Owens
Assistant Special Representative – PP Ruby Chang
Assistant Special Representative – CP Rudolf Chiou, (Mandarin speaking clubs)
Rotary China Secretary – Hennie Homan
Rotary China Treasurer – PP Thomas Adaemmer
[District] Rotary Foundation Committee Chairman – PP Pradeep Kumar
Short introduction in Chinese
国际扶轮社有109年的历史,为全球首家志愿服务机构,遍布全球200个国家和地区。四万个分社,120万精英会员以"超我服务"为宗旨,不涉及宗教和政治,以真挚友谊为基础,凝聚社会贤达、行业翘楚的力量,志愿服务来反馈社会。成员中很多是中外名人。扶轮的译名源于诗经大雅扶轮,与宗旨非常吻合,上世纪20年代开始在海内外华人社会沿用至今。
自1976年能统计的对中国的公益慈善项目达到1.8亿美元。这些项目由各个扶轮社与国际扶轮基金配对、合作(个别的社直接捐赠的项目无法统计)。重点关注清洁水、教育、医疗、妇幼、社区经济发展和和平等多元化项目服务当地并鼓励通过国际合作来促进友谊与和平。扶轮社社员一旦成为会员,便可以全球参加的活动。
二战前后已经成立了扶轮社上海(1919)、天津(1923)、北京(1924),广州、杭州,青岛、济南、福州、厦门、汉口、南京、芜湖、开封、汕头、梧州、宁波、苏州、武昌、镇江、昆明、无锡、长沙、西安、重庆、成都、兰州、桂林、贵阳、南昌、沈阳、哈尔滨、大连、长春、柳州、台北、香港等36个城市。
自1996年开始驻华的外籍社员在北京、上海以联谊方式定期聚会,除了凭会员自身专业和社会资源和捐赠,更带动其他国家的扶轮社、国际扶轮基金配对为社会做出不计其数的服务和捐赠项目,例如:全额捐赠1000多名先心病儿童手术的"生命的礼物",青海水资源项目、100多个图书角、红楓心理咨询热线、河北学生补助、北京太阳村、河南艾滋病儿童、星星雨自闭症,青海帐篷学校等。
Historical Snippet – 1
Randal Eastman, Special Representative for Beijing and Shanghai, provides a glimpse at our distant past – the early days of Rotary in China. The personalities behind the clubs were all big figures (all men unfortunately – but that was the reality of that era) who left a footprint here and abroad, where many drifted away after the turmoil of the 1930's and 1940's.
We are very fortunate to have someone who is multilingual and willing to delve deep into the history and share some snippets with us. PP Herbert Lau, Charter President of Tolo Harbour Rotary Club, who has also been a key figure supporting the expansion of Rotary into Mongolia and Kazakhstan is also a lover of history and a prolific writer.
The 1st Rotary district formed in China and the 1st Chinese Governor from Shanghai:
In October 1935, Rotary International decided to establish the 81st district in order to administer the clubs in China, Hong Kong and the Philippine Islands. There were totally 15 clubs with a total membership of 826:
China 11 clubs: Rotary clubs of Shanghai, Tientsin, Peking, Canton, Hangchow, Tsingtao, Tsinan, Foochow, Amoy, Hankow, Nanking
British Hong Kong 1 club: Rotary Club of Hong Kong
The Philippines 3 clubs: Rotary clubs of Manila, Cebu, Iloilo;. The clubs of Shanghai and Manila were both the oldest and the largest.  Both were organized in 1919, and each had over one hundred members.
Dr. Chengting T. Wang (王正廷博士) was elected the first governor. In June 1936, the 81st District Governor Dr. C. T. Wang reported the Rotary movement in China verbally to the congregation in the 27th RI Convention at Atlantic City, USA.  Here is the quote from what he said:
"The 81st District is certainly very small in so far as the number of clubs or the number of members is concerned, but when we come to look at its area, all its population, one can readily see that it is one of the largest, if out of the largest district of those which make up the Rotary family.  It includes not only China but also Hong Kong and the Philippine Islands.  China alone is as big as the United States of America.  We have about fifty districts in this country and we have only one in China, so yours humbly has really quite a big job on his hands."
Historical Snippet – 2
In June 1923, Past President Hal C. Norman was the only China delegate who attended the 14th Annual Convention of Rotary International held at Saint Louis, U.S.A. That was his first gathering of Rotarians from more than one club. After that, he wanted to tell fellow Rotarians about his impression and feelings. His quotations below were published in the April 1924 Issue of The Rotarian magazine:
Hal C. Norman (Shanghai, China):
"There is only one reason why I want to attend the 1924 Convention. Last year I was present at my first convention, and the benefits derived were so incalculable that I would like to miss no more until the time comes when I must join the host of other Rotarians whose days of service on earth are ended. My former perspective of Rotary was a distorted one; now I can correctly visualize it in its familiar semblance of a cogged wheel and the part that my club, as one of the little cogs, actually plays.
I want to go the convention because again I should like to help choose the men who are to govern Rotary. All clubs have problems; I want to hear these dealt with on platform and elsewhere by distinguished Rotarians, to talk about them with Rotarians from all parts of the globe.
I want to meet some of my friends of last year – to sense again that wonderful spirit of brotherhood; to meet the world's leading business men on the common ground of the convention, where all formal barriers are broken down, and after association with them come away with a rich store of ideas and impressions, realizing that Rotary is the business conscience of the world. Appalled by the chaos that politicians have wrought, I would be comforted by the realization that as the world is mainly carried on by business men, our power can be successfully pitted against that of the politicians we ourselves create.
I would learn still more of the genuineness of Rotary fellowship, brotherly love and service; I would take my fill of the inspiration that is there; survey more closely the depth and breadth of Rotary's vision; and, finally, extend my knowledge of my brothers from all parts of the world, realizing that they are basically alike, that the motives actuating them are the same as mine, and that their ideals, save for differences in view-point, are mine as well."
This piece of story was brought to you on 8 August 2013 by Herbert K. Lau (劉敬恒)
(Charter President 1987-88-89 of Tolo Harbour Rotary Club, Hong Kong)
Historical Snippet – 3
We had a very special guest joining us in Shanghai on 20-21 September 2014 for our 2nd Rotary China Conference: Dr. Cheng Che-Min, a Rotary Fellow – shortly before he celebrated his 90th birthday!
Brief Biography
Dr. Cheng Che-Min (aka Zheng Zhemin), was born on October 2, 1924. He received a B.Sc. degree in Mechanical Engineering from the Tsinghua University.
In 1948 he went to the United States as a Rotary Fellow – on a Rotary Foundation Scholarship of Rotary International (the sponsor was Peiping Rotary Club, China, and the American host was Pasadena Rotary Club, California, USA, received M.S. (1949) and Ph.D. (1952, theses supervisor Xuesen Qian) in Applied Mechanics from the California Institute of Technology.  Since 1955 he has been with the Institute of Mechanics of the Chinese Academy of Sciences and is presently a professor.
He is a Member of the Chinese Academy of Sciences (CAS, 1980) and a Member of the Chinese Academy of Engineering (CAE, 1994).  He was elected a Foreign Associate to the US National Academy of Engineering in 1993.  He was a President of the Chinese Society of Theoretical and Applied Mechanics and a former Director of the Institute of Mechanics (CAS).
Cheng Che-Min's early work was on thermal stress, vibration and hydroelasticity, and earthquake engineering mechanics.  His 1952 analysis of vibration of a large water conduit contributed to the successful solution of a serious vibration problem in a major engineering project.  Since 1960 he has focused on the study of explosion mechanics and applications, covering explosive forming, rock blasting, underground strong explosion, armor penetration, explosive cladding, gas coal bursts, and explosion in underwater sand and soft clay beds.  His recent interests are associated with the determination of mechanical properties of materials using nanoindentation technique.
His work on scaling rules and the mechanics of explosive forming and applications won national recognition in 1964.  He received two 2nd Class National Awards for Achievements in Natural Sciences, a 2nd Class National Award for Contributions to Technical Advances, and several awards from the Chinese Academy of Sciences.  He was awarded the 1993 Tak Hah Kee Science Prize for Achievements in Technical Sciences.  In 1996 he was awarded a science prize (in physics) by the He-Liang-He-Li Foundation.  In 2012, he was conferred State Preeminent Science and Technology Award of China — the national highest science and technology prize.
His publications include about 100 scientific papers and a book on explosive forming.  He is also a co-author of the chapter on 《Similarity and Modeling》 in the Chinese Handbook of Mechanical Engineering.