Highlights
We welcomed Gau for the Rotary Beijing lunch 20 June, our Rotaractor from the Beijing Rotaract West Club the incoming president); also the incoming president Marc and Deliah, our incoming Project Manager, both from the Beijing Rotaract Club. Visiting Rotarians this time were from from Tel Aviv and Honolulu.
Rotaractor Deliah made a presentation on the upcoming Rotaract Gatsby Gala. Rotaractor Gau made a presentation of the 14th Asia Pacific Rotaract Regional Conference in Phuket (Thailand).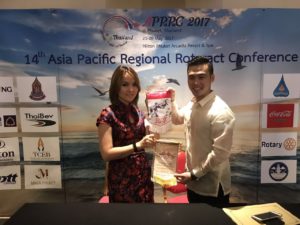 See here the online report:
http://mp.weixin.qq.com/s/xb2GH5mJKtD8xvoCIz8BmQ
(Pics by Celine)
China and Chinese Truck Industry
We had as speaker our Rotarian Jens Hamester.
Mr. Jens Hamester held various roles at Mercedes Benz Trucks. He worked with Daimler for more than 30 years, started in Aftersales and then in Pre-Sales for a couple of years, before he assumed the overall project management of Actros MP II in 1998 – 2003. From 2004, Mr. Hamester headed up the advanced engineering of Daimler and from 2006 Entire Vehicle Development Division of Mercedes Benz Trucks. Within that he is also responsible for R&D in Brazil and Turkey, and for the new Atego Product Line project. Before he switched to China, Mr. Hamester was Chief Engineer of Mercedes-Benz Trucks Chassis Engineering. Currently Mr. Hamester is the R&D VP of BFDA (Beijing Foton Daimler Automotive Ltd.).
China is similar to Europe and USA in its land size, but with much more population and less in GDP. Mr. Hamester explained from political ideology to economic improvement to harmonious society and the China dream from 1979 to now. Mr. Hamester analyzed the new trend in the market. There's a strong increase of the HDT (heavy duty truck) market volume, especially in the last quarter of 2016. Products shift to tractor segment. 6*2 shifts to 6*4 in number of tiers; higher horse power. Mr. Hamester also gave examples of existing JV between Chinese Truck OEM's and foreign OEM's.