A smaller group
Our Old China Hands 6 August lunch saw a bit less attendants, 27, still not too bad as it is right in the middle of the summer period, and midst a scare with new COVID-19 cases in Beijing and China. Two of our members are currently in a lockdown in their Wangjing compound. For 21 days, not funny and I think overdone by the authorities.
Quite a number are also away from Beijing.
Sadly it seems one of our most regular members, Terry, might not get his visa renewed. One more possible victim of the foreigners=disposable policies.
Thanks to Edwin I even have a pic of myself for once.
The most popular dish was the Belgian fricandeau dish! In English often called meat bread, meat loaf.Our next lunch, hopefully, is on Friday 3 September. We hope that by then the virus scare is toned down.
Old China Hands Lunch 1 June 2018 in Morel's Restaurant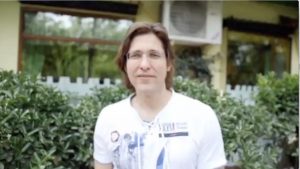 One of the unlucky lockedup at home is Greg who had made some interesting videos of our 5th anniversary. See the earlier post! I put them together and you can watch them on YouTube, yeah you need your backdoor.
See https://youtu.be/IvXaq8lIkkw
Thanks again Greg!