Germany and the rest of the world
Looks like WHO and others finally admitting the pandemic. As I predicted days ago.
The WHO declared the coronavirus outbreak a pandemic on Wednesday, with 114 countries reporting combined cases that added up to nearly 120,000.
"In the days and weeks ahead we expect to see the number of cases, the number of deaths and the number of affected countries to climb even higher," WHO chief Tedros Adhanom Ghebreyesus said in a press briefing in Geneva.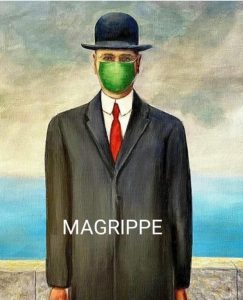 Only for those familiar with Belgian art…
Chancellor Angela Merkel: 60 to 70% of the German population could become infected.
Other people who have medical problems and need attention now neglected. This poses a serious risk.
Travel for business and leisure is now more dead than ever. Sport and all public events stopped.
The lack of testing in many countries with weaker economy and poor medical facilities is a ticking time bomb. I fear an explosion of new cases once the spread becomes visible. Think about Africa, India, South America… (and USA)
Anybody realizes the chain reaction in the world economy? A new brutal reality to ravage economies and societies. Killing globalization. A new Armageddon in the making.
Comprehensive COVID-19 map
John Hopkins University in the USA is producing a map with regular update of cases worldwide:
https://gisanddata.maps.arcgis.com/apps/opsdashboard/index.html#/bda7594740fd40299423467b48e9ecf6
Good luck USA
I watched Trump and his press conference on 12 March morning Beijing time. What a sinister declaration, as usual.
Donald Trump announced suspension of travel from Europe to the US: "We will be suspending all travel from Europe to the United States for the next 30 days, the new rules will go into effect Friday at midnight," Trump said, adding that the suspension will not apply to Britain.
A leading US health official testified at a Congressional hearing on the coronavirus outbreak Wednesday that the number of people sickened by the virus in the US could hit "many millions" if appropriate steps were not taken. "We will see more cases, and things will get worse than they are right now," Dr. Anthony Fauci – the widely respected director of the National Institute of Allergy and Infectious Diseases – warned members of the House Oversight Committee.
See also further down "A coronavirus lesson from China".
As predicted: Beijing quarantine
Don't say I did not warn you. Now all coming to Beijing, from ANY other place will face 14 days quarantine.
Chinese announcement: https://mp.weixin.qq.com/s/rNqV3iLWZoN88JlNeHmfzw
Says CGTN (and all others): Beijing on Wednesday further tightened its prevention and control measures for foreigners as more imported novel coronavirus cases arrived in the city.
Everyone, including those not from the hard-hit countries, is required to undergo a 14-day quarantine at home or designated place, according to local authorities.
People who entered Beijing on business trips have to stay in designated hotels before he is cleared from a nucleic acid testing.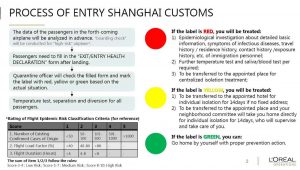 See also about Shanghai entry…
A coronavirus lesson from China: don't make patients pay for tests and treatment
As reported by SCMP
People with lower incomes will be deterred from seeking treatment if they face health care costs, worsening the epidemic.
As the coronavirus continues to spread around the world, China has one important lesson for other governments in fighting the disease – be prepared to pay so that patients won't let costs deter them from getting tests and treatment.
A coronavirus test reportedly costs about 370 yuan (US$53) in China. And in the southern city of Shenzhen, the average cost of treating the disease ranged from 23,000 yuan for elderly patients to about 5,600 yuan for minors, Chinese Hospital Management journal reported.
Some of the country's treatment methods such as extracorporeal membrane oxygenation are expensive but they are all covered by the government, which has earmarked 110.48 billion yuan for treatment, subsidies for medical staff and medical equipment.
In the US, where there have been 25 deaths among 696 confirmed cases, public anxiety is growing over the cost of testing.
The US government does not charge for coronavirus confirmation tests at designated laboratories but a trip to the hospital will incur other hefty expenses, in one case over US$3,200. Insurance lobby group America's Health Insurance Plans said individuals needed to check their insurance providers for coverage of costs related to COVID-19.
As of Monday, only 1,707 people had been tested by the US Centers for Disease Control and Prevention.
Japan designated COVID-19 as an infectious disease in February, making it the government's responsibility to pay inpatient bills related to the coronavirus infection.
In Britain, about 18,000 people have received free testing since last month, and 373 have been confirmed as infected.
"Clearly, wherever you have to pay for health care, individuals with mild symptoms in the lower-income groups will hesitate to visit a health care facility, and that may also be the case in some individuals with severe disease. These behaviors will extend the epidemic." said a professor. That is pretty obvious!
Role of China
Local media said the Red Cross Society of China was leading a team of medical experts heading for Italy on Wednesday, taking supplies and equipment with them.
Is the peak really over?
It follows a phone call between the two countries' foreign ministers late on Tuesday, in which China's Wang Yi responded to a request for help from his Italian counterpart Luigi Di Maio. Wang told Di Maio that China would send medical equipment to the country, and also offered to send medical personnel to help tackle the outbreak in Italy, according to a statement on the Chinese foreign ministry website. Chinese Foreign Minister Wang Yi reportedly told Italian Foreign Minister Luigi di Maio that Beijing was willing to donate 100,000 high-tech masks to Italy, 20,000 protective suits and 50,000 diagnostic tests.
Meanwhile details of the cover-up continue to come out.
A Wuhan doctor who posted information about the new coronavirus on social media that was shared by the late whistle-blower Li Wenliang has broken her silence, saying she was muzzled by authorities for raising the alarm without their permission at the start of the outbreak.
Ai Fen, director of the emergency department at Wuhan Central Hospital, told Chinese magazine People that she posted an image of a diagnostic report on social network WeChat on December 30, showing that the patient had a pneumonia infection caused by a SARS-like coronavirus.
Ai's interview suggests local health authorities in Wuhan, the center of the epidemic, missed an opportunity to issue a warning about an imminent outbreak before the virus spread and infected more than 117,000 people globally and caused over 4,200 deaths.
It was published on Tuesday but later deleted from the magazine's WeChat account, prompting angry internet users to repost the article on other platforms.
The new PR initiative from China: we are not to blame. Again. distorting reality and worse, many Chinese start believing the fake news.
The Chinese government's cover-up of the virus allowed it to spread unchecked in Wuhan for weeks, including among the 5 million city residents who left the city without being screened, leading to a national epidemic and inevitably to its spread outside China. There is no evidence COVID-19 spread in any human population before it spread in China.
From a member of the Stanford hospital board.
The tips I had posted here: well, they say it is a hoax and not correct. So I did remove it all while some tips I believe are correct. See:
"Posts are circulating false and misleading tips on social media — in some cases wrongly attributed to Stanford University — about how people can monitor and avoid the coronavirus."
instructions for lift in China – the irrational toilet paper stuff