A backlash abroad over China's vaccines
Can we trust Chinese vaccines? Some have doubts:
Writes NYT 26 January 2021:
The full article: https://www.nytimes.com/2021/01/25/business/china-covid-19-vaccine-backlash.html
China's coronavirus vaccines were supposed to showcase the country's scientific prowess and generosity. Instead, in some places, they have set off a backlash.
Delays, inconsistent data, spotty disclosures and the country's attacks on Western rivals have marred an effort by Beijing to portray itself as a leader in global health. Recent studies showing that the one of the vaccines has an efficacy rate of just over 50 percent — much lower than earlier claimed — have caused some concern. (*)
Governments in Malaysia and Singapore are now having to reassure their citizens the vaccines are safe, and Philippine lawmakers are criticizing the government's decision to purchase the vaccine made by Sinovac, a Chinese company. Sinopharm, a state-owned vaccine maker, and Sinovac have said they can produce up to two billion doses this year.
Details: Officials in Brazil and Turkey have complained that Chinese companies have been slow to ship the doses. At least 24 countries signed deals with Chinese vaccine companies after they were pushed out of the market for Moderna and Pfizer jabs by richer countries.
China's response: The state news media started a misinformation campaign against the American vaccines, questioning their safety. Their videos have been shared by the U.S. anti-vaccine movement.
(*) What I understand: this report from Instituto Butantã in Brazil is based on a different method than the usual way to test efficacy so it should not be compared to other results.
My remarks
The Chinese vaccines have been used since July 2020, see my LinkedIn post and SCMP:
"As I reported earlier… I would trust the Chinese vaccine, not the Russian one: China already using COVID-19 vaccine candidate on key workers, official says"
https://www.scmp.com/news/china/society/article/3098505/coronavirus-china-has-been-using-covid-19-vaccine-candidate-key
https://www.linkedin.com/posts/gvankerckhove_china-already-using-covid-19-vaccine-candidate-activity-6703509130927329280–mVz
As far as I know, there have been no serious adverse reactions. Even if the government covered up the bad news I believe bad news would have leaked out one way or other.
The approach in China for the vaccination program is radically different from the West where old people (e.g. above 80 in some cases) and people with underlying health issues may have priorities. Gradually in the West the age limit has been lowered.
In China, in the first phase of the program: only for people aged 18-59 and priority for special categories such as supermarkets, restaurant, cold storage workers, health care workers and other. People with underlying health issues and pregnant women: no.
According to China Daily, after Chinese New Year the program might be extended to all.
At some point is was said that the first phase was not for foreigners but what I know foreigners in the right categories did receive the vaccine.
Why the difference?
There are many questions raised with the Chinese approach, and some comment:
– China is not sure about the safety of the vaccine for the categories excluded from the vaccination.
– Why is China exporting the vaccine to many countries where it is used for all people while in China there are restrictions?
– Why is China exporting massively the vaccine while limiting the vaccination inside China? Why this "priority"?
Overview of current vaccines
See this article:
How the coronavirus vaccines compare and who can get them
The race to carry out the biggest inoculation programme in history has begun, with six products approved and more to follow
What are some of the differences between the various vaccines and how many doses have been ordered around the world?
https://www.scmp.com/news/china/science/article/3119150/how-covid-19-vaccines-compare-and-who-can-get-them
See the tables:
Do note that normally the vaccination in China is 2 doses with 2 weeks interval. As for efficacy rate, the figure is contested as noted already.
Vaccines: deliveries delayed
While currently many Western countries find out the promised deliveries are running behind schedule and the EU is complaining to the manufacturers, China does not clarify if their production capacity can meet the expectations of the population, and when and how older people and foreigners will be able to get it.
Due to Chinese regulations, none of the overseas vaccines can be used in China as none has been approved. Foreigners could theoretically get in in their embassy but no any embassy has mentioned this possibility. Except for the Belgian embassy who seems to say "it won't happen".
Present situation
As far as I understand vaccination is now available to more citizens like in Beijing, but still with the restriction: only for 18 to 59 years old, not for pregnant women, people with "health issues", …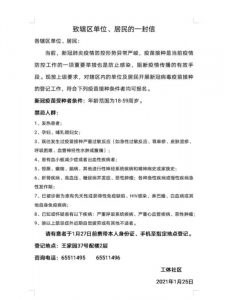 See here the official Chinese announcement for our compound in the Worker's Stadium area.
The next/present big question:
"5 things you need to know about post-vaccine travel"
See this article from TimeOutBeijing 26 January 2021:
https://mp.weixin.qq.com/s/MRqtuZg2DWIk2-8NwJ5_Ug
In my case, I can only wait… wait… being over 59 and a foreigner.