Very Belgian
In a previous post I explained what is witloof. Now more about its history; discover variants such as groenlof en roodlof (sorry, explanations in Dutch only). Both groenlof and roodlof are closely related to witloof. A reader alerted me about those! (thanks)
Where witloof was created
See: http://www.witloof.ca/what.html
Witloof is known in other parts of the world and languages as: Endive, Belgian Endive, French Endive, Witlof, Witloof Chicory, Chicory, Chicon, and Endivia.
The most popular history behind the discovery of Witloof is of a Belgian farmer living near Brussels around 1830 having stored some chicory roots in his cellar, intended to possibly use them later as a coffee substrate. He came to retrieve them at a later time only to discover white shoots coming out of the head of the root due to the climate conditions in the cellar, which he then tried to eat and found edible.
What Is fact?
Between 1850 and 1851, the head overseer of the Botanical Gardens in Brussels, Monsieur Brezier, developed methods to grow the chicory shoots out of the roots using darkness, warmth, and humidity. Darkness was essential in producing the white leaves, aka "wit loof", since the plant doesn't produce chlorophyll (the green leaf colouring) without light. The crop was first sold on the Brussels market in 1867 and later in 1883 in the Halls of Paris. The witloof crop became bigger and more closed over time as growing techniques improved and better varieties were developed. Today, witloof is a very common European vegetable whereas in many other areas of the world it is still considered a niche product.
Groenlof and roodlof
From the Internet, the description in Dutch:
Groenlof (Cichorium intybus var. foliosum) is een bladgroente die het midden houdt tussen witlof en andijvie. Het is vooral geschikt voor de najaarsteelt. Groenlof vormt langwerpige kroppen die een milde smaak hebben. Deze groente kan zowel rauw als gekookt gegeten worden.
And other source: https://www.veggipedia.nl/groentenenfruit/groenlof
Groenlof is een bladgroente en behoort tot dezelfde plantensoort als witlof. De groente wordt ook wel suikerbrood genoemd. Dit verwijst naar een ander familielid, de chicorei wortel. Deze wortel wordt als suikervervanger gebruikt. De krop is groen aan de buitenkant en lichtgeel vanbinnen. De smaak ligt tussen die van witlof en andijvie in.
Ook wel genoemd: bladgroente, suikerij, suikerbrood.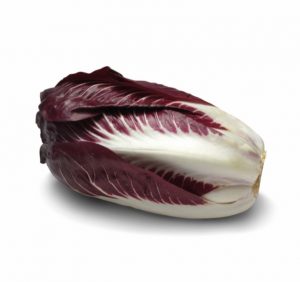 Roodlof is een kruising tussen witloof en radicchio. Het heeft een zachte, zoete smaak. Roodlof kun je in salades of wok- en ovengerechten gebruiken.