Cleaning up my paper mountain
As many friends know, I have this annoying statement since a few years that I am trying to clean up the mountain of files in my office. Annoying because I always mention it but failed to make any progress. But I am discovering a lot like Rotary Club of Beijing memories, among many other. It seems like a huge jigsaw puzzle as papers are all mixed up, sometimes with no date stamp. But yes I am making progress and my tricycle recycling friend has more waste paper to collect.
But sometimes I am left puzzled about those hazy memories.
A gold medalist
I stumbled on this small newspaper clipping: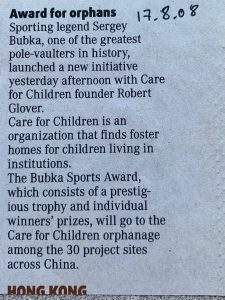 I think the small article is from China Daily. I found the longer version here:
http://www.chinadaily.com.cn/olympics/2008-08/18/content_6945218.htm
I had nearly forgotten about it. I found back the old post on my website, see here the updated version:
Sergey Bubka, the IOC and Beijing Rotary Club, https://www.beijing1980.com/2013/08/20/sergey-bubka-the-ioc-and-beijing-rotary-club/
Few of our present members ever heard about Sun Children Village… One of the projects we supported. We even had a Rotary Villa there…
GSE 2008
GSE is "Group Study Exchange". We did that in 2008 when we sent a Chinese team to New Zealand and we then received their team in Shanghai and Beijing. It was a difficult and complicated organization with our Kiwi friends staying all over the city in different locations and changing then from one family to the other. One, Jo, stayed with me and I found back her note, see the pic. I had also organized for her a meeting with one of the most important pharmaceutical companies involved in diabetes medicine; Ms. Joana Young BSc, PG Dip SCi was doing her PhD – Clinical Scientist, Lipid and Diabetes Research Group, Christchurch Hospital.
We had a very varied and full program for the group, but also filled with fun: I took them to a big lesbian evening where we had a great night. To say farewell to our New Zealand GSE team we organized a dinner on Friday 25 April 2008 in Restaurant Sahara (long gone, close to Salsa Caribe, also gone). We had a large VIP room with our own buffet of Middle East cuisine plus belly dancing in our room.
See some of the many pics (never published). One is during our Rotary lunch with the whole team presented; one in Pipe Cafe, long gone and razed, gongti nan lu, that time the biggest lesbian bar where I had privileged access; one in Sahara Restaurant.
Overall it was a big success but it also proved to be too much work for the Club.