Year of the Tiger
With the golden week of Chinese New Year, Morel's was closed on the first Friday, so we had the Old China Hands 11 February lunch instead. Great attendance with 38 present!
I organized a small lucky draw to celebrate the 2022 Winter Olympics. Two lucky winners got the pair of Olympic coins, Mark and Ferencz.
Hachis Parmentier
Morel's Restaurant again offered a great lunch menu. I chose the Hachis Parmentier, that was a great but real filling dish!
See here some details about that dish:
French Beef and Potato Casserole
See: https://www.curiouscuisiniere.com/hachis-parmentier
Hachis Parmentier is a French casserole made with layers of mashed potatoes and beef, topped with cheese.
and
Hachis Parmentier, pronounced HA-she PAR-man-TAY, is a classic French recipe that is pure cold-weather comfort food. It's perhaps best described as the French version of Shepherd's Pie. It combines seasoned beef with a layer of silky smooth potato puree and is topped with gooey gruyere cheese.
See: https://entertainingwithbeth.com/hachis-parmentier-recipe/
The desert was also special: "Tiger Chocolate Choux Pastry"!
Here an introduction:
See: http://lovingcreations4u.blogspot.com/2019/04/tiger-chocolate-choux-pastry.html
Edwin Maher, our CCTV star
Edwin and me we go a long way. I already mentioned him in my following post:
"The top 60 foreign experts in China"
https://blog.strategy4china.com/2010/02/the-top-60-foreign-experts-in-china/
It mentions the book "60 Foreign Experts in China", published in 2009 by the Foreign Languages Press. Listed are the "usual suspects" such as Israel Epstein, Sidney Shapiro, David Dollar, William Lindesay, Norman Foster, Edwin Maher and even Henricus (Hein for the insiders) Verbruggen. Yeah and myself.
I was also on the float with him on the parade of 1 October 2009.
See: https://blog.strategy4china.com/2010/01/gilbert-in-global-times-newspaper-web/
and
Oct 1 Parade last pictures
https://blog.strategy4china.com/2009/10/oct-1-parade-last-pictures/
Many articles published about him… See here a few:
Article China Daily 28 January 2015
The full story: 150128 EdwinMaherCD
Article China Daily 27 October 2017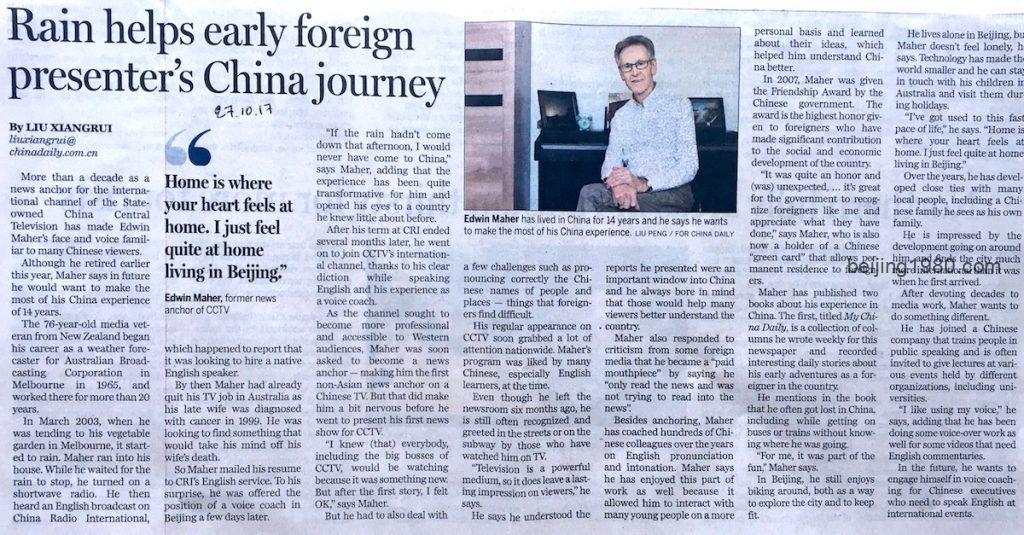 And in TheBeijinger:
Edwin is currently away to be with family. Looking forward to see him again in our lunches.