Blue Star Restaurant & Bar
The new restaurant, run by our friend Thorsten Eckert now hosts the Deutscher Stammtisch Beijing.
The place is a bit hidden, on Xindong street, in the middle of the buildings across the street from the Bentley shop. It was previously "XL Bar", but Jane emigrated to Qingdao to help run The Tree by The Sea, you guess who is the owner…
The place is small and cozy, with a large beamer and yes its own (clean) toilet.
Food basically German plus many other dishes. Even Paella.
I wanted to see the place on 26 January and bumped into the German Stammtisch people… No quiet evening that was! With great food and that Prinz Kirsch…
Deutscher Stammtisch Beijing
Stammtisch in German means "table for regulars" but is a concept in itself and the translations into other languages do not really convey the real meaning.
It reminds me of the Flemish word "stamcafé", that can be translated as favorite bar or pub, habitual hound or even yes Stammtisch…
See their sites:
https://www.peking.pro/
http://www.deutscherstammtisch.com/beijing
Actually years ago I was a regular member of the German dinners, mostly in Schindlers. So, I am "back".
I joined again on 23 February.
The food
There are of course the nice sausages but also some specials.
Mett / Mettigel is a preparation of minced raw pork that is popular in Germany, Poland and in Belgium; a similar preparation is made from beef. It is normally served with salt and black pepper, and sometimes with garlic, caraway or chopped onion, and eaten raw, usually on a bread roll. Or presented as a hedgehog… as you see in the picture. It came with nice side dishes to spice it up.
See: https://www.mettsalat.de/die-geschichte-des-mettigel
Here it is done with beef.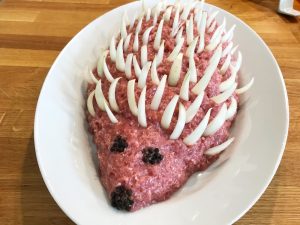 Maatjes is very popular in Belgium, Netherlands and Germany. I love it! This one actually comes from North China.
In Dutch:
"Een maatje is een jonge haring, die zich nog niet heeft voortgeplant. Aan boord wordt de vis meteen 'gekaakt', gezouten en ingevroren."
See https://dagelijksekost.een.be/kookmagazine/maatjes-of-hollandse-nieuwe-wat-is-nu-het-verschil#type=articles
In English:
Soused ("pickled") herring is raw herring soaked in a mild preserving liquid. It can be raw herring in a mild vinegar pickle or Dutch brined herring. As well as vinegar, the marinade might contain cider, wine or tea, sugar, herbs, spices, and chopped onion.
https://en.wikipedia.org/wiki/Soused_herring