Kempinski Hotel
For our Rotary lunch 8 March 2022 we had as speaker Sjoerd den Daas, Correspondent of the Dutch Broadcast Corporation NOS who reflected upon his recent experience of the Winter Olympics from a journalist perspective.
We also concluded the auction of the Winter Olympic tea set I donated for the following Rotary Disaster Fund:
The United Nations estimates that number of Ukraine refugees could grow to as many as 5 million people displaced. Inter-country Committees and Rotary clubs in Europe and around the world have stepped up their relief work, some working on the ground to help displaced families.
Rotary International has established a special Committee that will coordinate the provision of assistance from around the world to Ukraine, funds will be used to supply water, food, medicine, shelter, and clothing.
See here to donate directly: https://my.rotary.org/en/disaster-response-fund
Times a changing
As things become more and more complicated in China, Rotary is not allowed to operate normally, so many restrictions.
How times change. See here an announcement I did in March 2005 for the Rotary Charity Ball.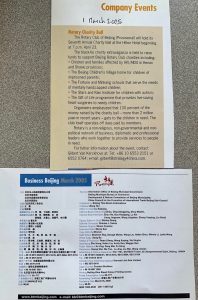 This today would not be allowed anymore.
Oh well…
Gilbert on Youtube, Introducing Rotary in Beijing
3 August 2012
https://www.youtube.com/watch?v=SKd6pKr_VQ8
Rotary eClub 3170 Guest Speaker Gilbert Van Kerckhove
Rotary Club of Beijing, China
I also talk about my origins, what I did in China…