Back in force
Happy to see our Old China Hands lunch 5 August reaching again 35 attendants. We still had to keep the strict door checks for the negative COVID test. Sadly one of our most regular members was refused entry as his test was 5 days, the test he had done the previous day did not show the result, most probably as they did not enter his data correctly. We are not being "despotic": police has installed equipment that checks if people entering scanned – and the health status.
Sorry Terry, we missed you.
Anyway everybody happy, the food was great as always, see some of the dishes here – Russian egg salad, fricandeau, piccata Bolognese, red snapper filets, and pancake with fruit.
Still hungry?
I always eat too much during those lunches, but in the evening I still needed to discuss with Chef Renaat.
I had the gratinated goat cheese and we were surprised with each a half waffle!
Our star of the month
This time the focus is on Raja, probably the oldest "Old China Hand", he beats me by far.
He found a picture of us, date unknown but somewhere in the eighties.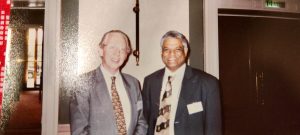 Raja Magasweran is originally from Sri Lanka. See the documentary about him:
"Bond With China – China Fate – My career is in China".
《中国缘 | 我的事业在中国》20210822完整版
Dated 22 August 2021 as I understand.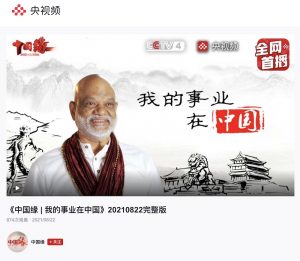 Watch the full version here.
I had the pleasure to meet his family several times.