Three Michelin Stars
Renaat Morel is the three Michelin stars chef who now does not want any stars anymore but is the proud owner of the best Belgian Restaurant in Beijing. Or should we say, in China.
Morel's Restaurant is the only one in Beijing offering genuine Belgian cuisine in a charming interior. The menu of traditional Belgian and French dishes is composed by the celebrated chef Renaat who previously served Royalty and famous stars in the South of France.
The famous TRB, Hulu and more managed by Belgian Ignace Lecleir are great places to enjoy the best of European cuisine.
The first batch of Beijing International Food Lists jointly recommended and released by Beijing Cuisine Association and Meituan came out recently, a shortlist of the most famous restaurants.
According to report, in order to ensure the professionalism, fairness, and impartiality of the list, only 123 restaurants were selected from more than 150,000 restaurants through the recommendations of the association and experts. Among them, 41 Beijing cuisine restaurants were selected as the "Beijing Year Restaurant List", 57 provincial and municipal restaurants in Beijing were selected into the "Shenzhou Delicious Full List", and 25 foreign restaurants were included in the "International Gourmet Collection List".
Morel's Restaurant and Café was one of the top foreign restaurants and Renaat Morel received his certificate in August 2022.
The restaurant has been in the same location for far over 20 years, a real feat as so many restaurants open and disappear.
The evolution of the customer base is remarkable. In the first decade the vast majority of the customers were foreigners. In recent years at least 80% of the customers are Chinese – who are also bigger spenders!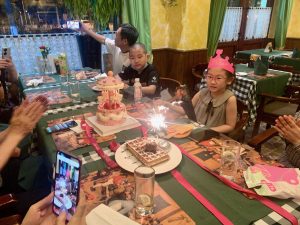 It is also very much in demand for birthday celebrations!
The take-away and delivery has become an important contribution to the revenue, when a few years ago that service did not even exist.
A famous couple
The restaurant is run by Renaat and Susan, his wife. Susan is also a great florist and the flowers you see – and receive – are of the highest quality.
The restaurant has been featured in innumerous media, and was already mentioned in Beijing Weekend in June 2000.
Chef Renaat has an imposing track record, already mentioned in detail in a previous post.
So many TV shootings were done that it's impossible to mention all. See:
"Chinese Destiny" is a documentary program about cross-cultural characters produced by the Chinese Global Program Center of China Media Group. "Foreign chefs in Beijing" (short appearance of … Gilbert)
Earlier in 2022 several days of invasion by CCTV4 in Morel's Restaurant and Café for a documentary about Renaat and his restaurant, shown worldwide.
On 16 September 2018 Renaat Morel was decorated in the Belgian Embassy, in the presence of the Ambassador, the Governor of the Province of Antwerp and many guests.
What about the food?
That is another long story, to be published soon!