Full house
The Old China Hands lunch 7 October came at the very end of the "Golden Week" of National Day (1 October). We were a bit worried about attendance but we had 34 happy Beijingers.
With all the restrictions and worries with the zero-COVID paranoia, many people in Beijing decided not to leave the city so Morel's Restaurant had very busy days.
While we always loose members we also welcome new faces, some visiting Morel's for the first time.
Food was as always great. See a few pics of the dishes.
Our Hutong Man
Yes, Terry Crossman again.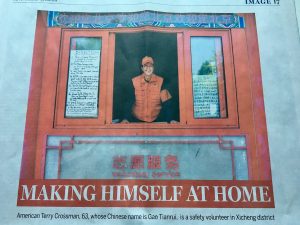 Another "Terry in the news" (19 May 2018)
See previous post about Terry.
He was also in Old China Hands stars.
I found one more video on CCTV-4:
CCTV-4中文国际频道
外国人在中国(停播)
《外国人在中国》 20180422 西城"洋大妈"
Translated:
CCTV-4 Chinese International Channel
"Foreigners in China" 20180422 "Foreign Aunt" in Xicheng
Watch it here.
Next lunch
Next one is on Friday 4 November. Attendance is not open, advance registration with me is mandatory. All nationalities and backgrounds are welcome but only for "foreigners" (non-Chinese ID) with ten years of China experience. Next spring it will be our 10th anniversary!