Chez Soi
Chez Soi is now Le Sud but I must admit I miss the previous version. Caroline has always been very friendly and welcoming and I keep visiting the new place.
Chez Soi was never a luxury top-level restaurant but the atmosphere was cozy, some of the dishes were pretty good and overall prices were rather cheap. Some of the pizzas were very tasty.
See some of the many dishes I enjoyed. Looking at them I feel hungry…
Yes the windows were pretty bad and needed renovation, Of course Chez Soi also suffered from the COVID problems and many forced closures. These 3 COVID years have taken a big toll on business.
Major renovation was done for the new restaurant, very well done.
Le Sud first visit
Our first visit on 14 November 2022 was, well, a bit disappointing.
The dishes: crab salmon, foie gras, beef Wellington, bouillabaisse, Ile flottante, apple tart plus a couple of IPA. The bouillabaisse was a joke and the Wellington was (for me at least) a weird version.
Overall price was rather high, too expensive for the quality and quantity.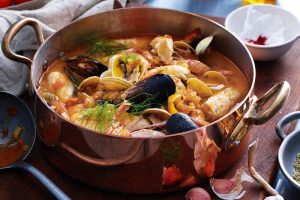 Bouillabaisse is a traditional Provençal fish stew originating in the port city of Marseille. This is how it is supposed to look like! There are some different ways to prepare and serve but here you find a good introduction.
Back to Le Sud
On 2 January 2023 we tried again. This time we were much more happy with our choice.
Better choice of beers and the heating was also better. Friendly service.
I was not convinced at all by the fries. Soggy.
The duck was great.
I will surely return to test more!