Didi Rider app today
The latest Didi app update mentions: "With DiDi you can catch/get a ride with a tap of your finger within minutes. Our full English interface, 24/7 in-app English customer service, and presence in over 400 cities across China makes us the most reliable and convenient service to get you where you need to be!"
This link supposedly gives details about DiDi Rider app.
However reality is different. Again my Belgian Mac App Store says it is not available. Apparently it was available at some stage, it is in my mobile and it seems to be working fine, see the screenshots above.
Then I found this link with a QR code: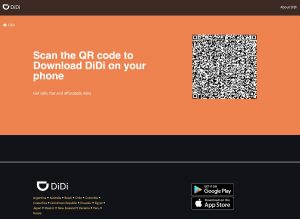 It says: "Scan the QR code to Download DiDi on your phone".
You can see a list of countries, not sure if it corresponds with the Mac App Store availability:
Argentina • Australia • Brazil • Chile • Colombia • Costa Rica • Dominican Republic • Ecuador • Egypt • Japan • Mexico • New Zealand • Panama • Peru • Russia
Interesting enough the list does not mention China. I did not scan the QR code as the app is on my mobile and it could mess up everything. But if someday the app goes dead I might try.
I also found a possible download from a third party, worth a try…
The download link is here.
Total confusion is the word. So, don't ask me how I got the app working…
It all depends on your mobile (iOS or other) and for iPhone where your App Shop is located; if in China sure more easy.
Any feedback is appreciated!
Didi back in app stores. Really?
On 20 January 2023 SCMP wrote:
Didi Chuxing's main app returns to Apple, Android app stores in China after Beijing gives green light for new user sign-ups
The 'Didi Chuxing' ride-hailing app returned to Apple's store on Thursday, while the Android version was restored by Wednesday on various local platforms
Didi Shunfengche, a car-pooling service, and Uber China, the Didi-owned local platform of the US ride-hailing giant, remained inaccessible on app stores.
Well that was not the end of the story!
Didi resurrected and don't ask how
After my warnings about the Didi app on the iPhone, the app finally crashed. Now (February 2021) the English Didi app is resurrected. Like a miracle!
Earlier, "Didi is gone!"
As I wrote on 15 May 2019, Didi app disappeared from App Stores.