Presentation of the movie
On the evening of 20 August 2019 I attended the launch of the movie featuring Isabel Crook, in The Bookworm.
Yes, that was a long time ago, since then the landmark The Bookworm was closed, a great loss for Beijing. Seems the authorities don't care.
In the meantime Isabel Crook has left us, the reason for digging up this event. Later I will soon write more.
The evening was organized by the podcast "How China Works", with hosts Brendan Davis and Li Yingying.
Many of my friends attended. Mark Levine, Fu Han's partner of "In Side Out" of course was there and gave a performance.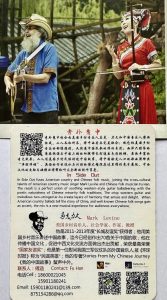 I recently wrote about his birthday party, in a previous post.
The star of the evening was of course Isabel Crook herself.
Fu Han's movie featuring Isabel Crook
Fu Han did a really great job and we were all impressed by the movie.
You can watch it on the Chinese server here (no VPN).
From those abroad I uploaded on Vimeo (need VPN in China).
"Great many thanks to Fu Han for this great movie about Isabel Crook who passed away this August 2023".
Watch it here.