RIP
Longtime Beijing resident Isabel Crook passed away on 20 August 2023 at the age of 107.
She was a truly remarkable lady whom I met several times. Despite her age she remained very active. The last time I met her was on 18 February 2023, the big birthday party for Mark Levine, attended by many of his friends. Isabel Crook and her two sons were the star guests, see the post here.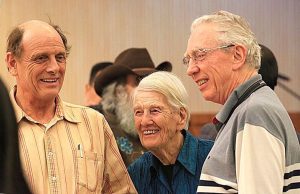 With Isabel and Michael Crook 20 August 2016
I also met her in 2016, as mentioned in the post "Spotlight on Mark Levine". With pictures from 2014 (Hilton event) and 2016 (Beijing Foreign Studies University), including Isabel and Michael Crook.
Another key event was on 20 August 2019 when I attended the launch of the movie featuring Isabel Crook, in The Bookworm, with a performance by Mark Levine. Fu Han did a remarkable job!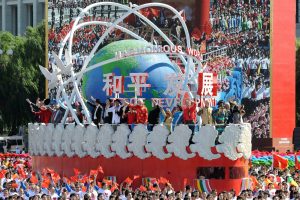 I was with Michael Crook (in the middle, white jacket) on the float during the parade of 1 October 2009.
All over the media
See here some of the media announcements.
China Daily
20 August 2023 – Pioneering educator, researcher Isabel Crook dies at 107 in Beijing
By Zou Shuo in China Daily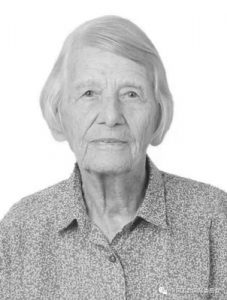 Isabel Crook
Canadian educator and anthropologist Isabel Crook, who pioneered English language teaching in New China and was a recipient of the Friendship Medal, China's highest honor for foreigners, died on Sunday in Beijing at the age of 107.
Crook, who lived and worked in China for more than 90 years, witnessed and participated in the development of China's foreign language education, according to a eulogy released by Beijing Foreign Studies University, where she taught English for more than 70 years.
In New York Times
26 August 2023 – Isabel Crook, 107, Dies; Her Life in China Spanned a Century of Change
Read the full article here.
A noted educator and anthropologist, she spent almost her entire life in China, where she was a committed friend of the Communist government.
Isabel Crook, a China-born daughter of Canadian missionaries who became one of her adopted country's most celebrated foreign residents, beloved as an educator, anthropologist and articulate advocate for the Communist state, died on Sunday in Beijing. She was 107.
Her son Carl Crook said the cause of death, in a hospital, was pneumonia.
Mrs. Crook was among the last of a generation of Westerners born to missionaries in China in the decades before the Japanese invasion, World War II and the subsequent Communist revolution.
See the PDF: 230826 NYTIsabelCrook.
In theBeijinger:
Remembering Isabel Crook, Canadian Expat and Educator, 1915-2023
22 August 2023 – Irene Li – theBeijinger
Canadian educator, anthropologist, Friendship Medal recipient, and longtime Beijing resident Isabel Crook passed away on Aug 20 at the age of 107.
Born to missionary parents in Chengdu in 1915, Crook earned her master's degree from the University of Toronto in 1938, before returning to China for anthropological study.
See the PDF: 230822 theBeijingerIsabelCrook