Severe impact
Most people do not realize the enormous impact and chain reaction. The NCP is undermining the economy, in China but also in the world. (NCP, previously called 2019nCoV)
If the epidemic can be under control and restrictions lifted by 1 April, that would be SUPER.
I am afraid that is too optimistic.
As for seminars, conferences, trade fairs, parties, big balls, and all: don't count on it anytime soon.
Draw your own conclusions.
What I most fear: panic, social instability, paranoia, hysteria, overreaction, exaggerated restrictions, name it.
Eating at home, happy! TRUVAL: The Belgische FruitVeiling (BFV) is a cooperative of fruit growers, established in Sint-Truiden. Truval was chosen as the new name for the quality brand.
As for now, I stay in Beijing. Though I feel it's worse than SARS when I was also here. I hope I can say, "I was wrong. All is well!."
Supply chain affected
Already some factories outside of China have to stop production because the components they need from China are not arriving. Slowly those buyers will look for other suppliers, even unwillingly.
The same will apply to many export items such as consumer products. The problems that surfaced with the USA-China trade war will just get worse. Yes, few countries can compete with the efficiency and price levels of the Chinese supply chain but there are limits…
Foreigners and students
Many foreigners decided to go away or stay away because of the draconian restrictions and the fear to get sick. Then China will suddenly realize those annoying foreigners do contribute to the economy.
The education sector is already suffering, schools and universities to remain closed till 1 March (at least). That is not a big issue somehow but foreign families might get second thoughts of returning.
The service sector
Restaurants are forced to close. If they want to open, draconian measures. Max 3 people on one table. Distance between tables 2 m. Waiters to remain at safe distance to take orders. Restaurants cannot get their supplies, are prohibited access to their warehouses. As nearly all service staff is from outside Beijing, many can't come back or are not (immediately) allowed to work. Or, they are afraid to go to work. So most won't get any payment as most Chinese companies ignore the "laws".
Want someone to repair the air conditioner, fridge, or do house repairs? Most are barred from working and/or barred from your compound.
Monday 10 February
China was supposed to get back to work on Monday but it was very, very subdued. Many companies and shops remain closed. Some of my favorite restaurants won't open.
Morel's Restaurant decided on Monday not to proceed with the opening and to wait at least one more week. Main reason: grocery deliveries as good as impossible due to often unreasonable bureaucracy and restrictions.
Renaat: we remain closed!
Legend Beer ordered not to open as "they receive too many guests". Reopening date not clear, could be one or two weeks later, nobody knows.
Some restaurants continue to operate, such as Niajo, Hulu TRB (both in Sanlitun) and Caravan (Guanghua Lu), many focusing on home deliveries. But one must pick it up at the gate as deliveries cannot enter.
Is Beijing under lockdown?
I would say not really, certainly not like Wuhan.
But some restrictions are pretty draconian, no non-Beijing cars allowed, many compounds refuse visitors, some buildings under lockdown, access to many parts of the city (especially for transport of goods) seriously disrupted. But airport and railway stations are still open, however long-distance buses are stopped.
Smaller cities often impose meaningless house quarantines, even for people returning from overseas or from Beijing. Many of those restrictions are illegal says the central government…
Contamination issues
Chinese authorities announced on Monday that aerosol and fecal routes of infection remain unconfirmed.
Calls are now stronger to eliminate wildlife trade as China confirms the virus came from pangolins and bats as reported earlier.
All as reported in China Daily on 10 February.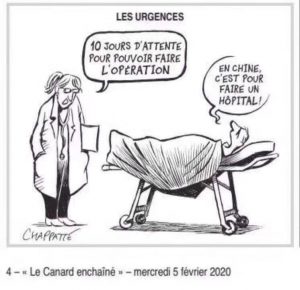 "Ten days wait for the operation" "In China ten days to build a hospital".
WHO is increasingly worried the virus could spread worldwide by people who never set foot in China. They said, maybe we have seen only the tip of the iceberg…
But compare: the lockdown of Wuhan alone equals the lockdown of entire Belgium. Imagine…
So what now?
The millions of Chinese in Wuhan and surrounding areas confined to their homes during the coronavirus outbreak have turned to the internet to alleviate boredom and do their work from home, boosting the fortunes of tech companies that offer services like mobile games, work conferencing and online health services.
While nobody knows how and when the health crisis will end, the business and tech landscape is likely to change by the time the crisis is over, creating a new set of winners and losers in China's increasingly digitalized economy.