A special celebration
Our Old China Hands 7 January lunch in Morel's again celebrated a special event, "King Cake", see further the background.
Attendance was pretty good with 28 people, despite last minute cancellations.
And of course food was great as always.
As we had two big tables we decided to have a "Lucky King" at each table. See Curt searching in vain for the lucky statue, our Michel waiting patiently for more guests,
We had the same celebration last year: https://www.beijing1980.com/2021/01/24/old-china-hands-8-january/
See some of the many dishes part of the special lunch menu!
In the evening I came back again for another extra King Cake (with ice cream, last pic). Delicious!
6 January: Epiphany
In Belgium, it is customary to eat a king cake (galette des rois in French or driekoningentaart in Dutch) on 6 January to celebrate the Epiphany. At its inception, the Epiphany was a Christian feast that celebrated the revelation of Jesus Christ to the Eastern kings. Nowadays, the celebration has included pagan traditions and is enjoyed by many, irrespective of their beliefs.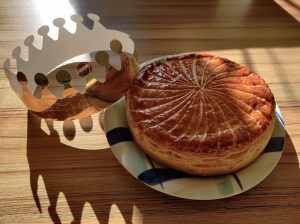 The Epiphany's origins can be traced back to the Gospel of Matthew, in which three kings from the East, Gaspar, Melchior and Balthazar, are said to have followed a star until they reached Jesus who had just been born. With them, they brought three gifts: gold, frankincense and myrrh.
The custom to eat cake that day only came much later from the Roman empire. During the Romans' Saturnalia, a feast in honor of their god Saturn, the role of the slaves and their masters would get switched around: the masters would make a cake in which they'd hide a bean. Whoever found the bean could then be king for a day, make demands on their masters and express freedom of speech.
Nowadays, Belgians often eat their king cake with their family. The cake is made with puff pastry and almond paste, and instead of a bean a small porcelain figurine, often representing Jesus, is hidden within. Whoever gets the figurine in their piece is crowned king for a day. To ensure fairness in the game, the youngest child has to sit under the table while the cake is cut, naming the recipient of each piece. The winner is then given a cardboard crown and can choose their king or queen!
Source: https://mp.weixin.qq.com/s/zmAqt8uS9VwYnLArUkL1-w
Another "Famous OCH" in the spotlight: Alan
As published by theBeijinger!
"There is something gentlemanly about Alan Babington-Smith, and given all that he has accomplished over his lifetime, as well as the astounding things he has done while here in Beijing, I feel honored to shed some light on the amazing life of this man, whose main occupation now is helping to run the Royal Asiatic Society, Beijing."
Read the full story: 211211 AlanBabington.pdf
Previously his lovely wife was featured: https://www.beijing1980.com/2021/11/14/old-china-hands-5-november-lunch/