Contagion spreading
Panic around the world as several countries in East Europe, in the Middle East, along with Italy and others went into emergency mode with new cases of COVID-19. Reaction is at times chaotic, uncoordinated, and with hostility towards Asians and returning nationals. And closing borders.
On 24 February Coronavirus hammers financial markets
Will those countries be able to organize and implement the necessary measures as China did?
E.g. could Belgian hospitals cope with 5,000 sudden cases? How many hospital beds does Belgium have? And the whole system is plagued with stifling bureaucracy. Will people respect quarantine rules?
At least France is systematically preparing hospitals for the possible influx.
Let's hope they can keep it under control…
Yes, pandemic is at the door. But let's not forget that every year in Europe some 40,000 people die of the seasonal flu.
I you want to read a detailed insight on the pandemic, here is a good one:
"Is It a Pandemic Yet? It's now clear that the coronavirus epidemic was never going to be contained. What's next?" (NYT 24 February)
https://www.nytimes.com/2020/02/24/opinion/coronavirus-pandemic.html
Some excerpts:
Iran announced 43 cases and eight deaths. Some 152 cases (and at least three deaths) were confirmed in Italy on Sunday. The number of infected people in South Korea jumped to 763 (and six deaths) in just days.
As of Monday, Covid-19 was detected in at least 29 countries. In nations with few or no reported cases so far, particularly in South America and Africa, the absence of evidence shouldn't be interpreted as evidence of absence. More likely, it reflects lack of testing.
China Economic Review on 23 February
As reported earlier, impact impact…
I also mentioned earlier the international supply chain is being affected and manufacturing around the world will suddenly be deprived of components made-in-China. As happened to a friend a few years ago, his factory stopped in Belgium because … special screws from China were not arriving.
Reason to worry as overseas factories scramble to find other suppliers, and might then stick to those.
It is thus to hope the Chinese industry can restart soon… The big challenge now.
See below some more news from CER…
Millions of Chinese firms face collapse if banks don't act.
With much of China's economy still idled as authorities try to contain an epidemic that has infected more than 75,000 people, millions of companies across the country are in a race against the clock to stay afloat, reported Bloomberg.
A survey of small- and medium-sized Chinese companies conducted this month showed that a third of respondents only had enough cash to cover fixed expenses for a month, with another third running out within two months. Without more financial support or a sudden rebound in China's economy, some may have to shut for good.
"If China fails to contain the virus in the first quarter, I expect a vast number of small businesses would go under," said Lv Changshun, an analyst at Beijing Zhonghe Yingtai Management Consultant Co.
China's passenger car sales tumble 92% in first half of Feb. due to virus outbreak.
Retail sales of passenger cars in China crumbled 92% on an annual basis in the first 16 days of February, according to China Passenger Car Association (CPCA), as the coronavirus outbreak slammed the brakes on businesses across the country, reported Reuters.
"Very few dealerships opened in the first weeks of February and they have had very little customer traffic," it said.
The supply chain is badly hit
If you are still an optimist, read this:
"Coronavirus: China's manufacturing supply chain pummelled from all sides in efforts to restart. Coronavirus costs keep mounting for manufacturers, who are facing huge losses in sales and struggling to ramp up production. Logistical logjams persist as transport networks struggle to find workers and navigate lockdowns across China."
SCMP 20 February 2020
https://www.scmp.com/economy/china-economy/article/3051534/coronavirus-chinas-manufacturing-supply-chain-pummelled-all
The article details the problems I mentioned since long. One of the many "small" details:
There have been reports of cargo ships being marooned at sea, with ports in countries with strict coronavirus quarantine rules such as Australia, Singapore and the United States not permitting shipping personnel to enter their ports if they have been in China over the past 14 days.
Need I explain?
Eating out? Partying?
Incredibly enough some bar in Beijing was still holding a party with crowds inside, most without a mask. Saw the video. That was really stupid and irresponsible.
Those locations might have an unpleasant visit from the authorities with very unfortunate consequences.
See how one of my favorite restaurants does it according to the rules, Groovy Schiller's. Also the limited opening hours of Kempinski Hotel (not sure about their seating rules…).
With those rules many restaurants prefer not to re-open.. too much trouble for too few customers… I wonder when and how Legend Beer may try a "soft" opening (later this week?). Morel's Restaurant wisely keeps the door locked, while we all so miss the food. No Monthly Old China Hands Lunch in early March. Too early.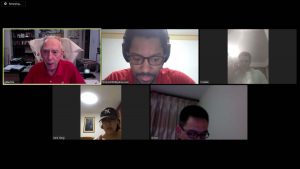 Our Rotaract meetings also cannot take place as usual but we had a ZOOM meeting on Monday evening…
We all hope we can soon go back to our Beijing life…
COVID-19 comes from?
Coronavirus did not originate in Wuhan seafood market, Chinese scientists say, as per SCMP on 23 February 2020.
Analysis of genomic data from 93 samples of the novel coronavirus suggests it was imported from elsewhere. The busy market then boosted its circulation and spread it to the whole city, research shows.
According to the study analysis suggested that the coronavirus was introduced from outside the market. The crowded market then boosted COVID-19 circulation and spread it to the whole city in early December 2019.
The research went on to say that based on the genome data it was possible that the virus began spreading from person to person in early December or even as early as late November.
A researcher at the Chinese Centre for Disease Control and Prevention, said in an interview with state broadcaster CCTV on Saturday that people infected were contagious two days before they showed any symptoms.
Chinese specialists still believe the virus comes from wild animals and the government has (finally) prohibited all trade of those.
French embassy notice
See here again: notice about the quarantine in Beijing from the French embassy.
Well done!