For our Dutch-speaking friends and Belgians
The updates COVID-19 of today provide some interesting information for Belgians and Dutch-speaking friends.
The University Hospital in Antwerp (Universitair Ziekenhuis Antwerpen – UZA) is preparing to receive patients infected with the virus. Building a special hospital unit with containers so they can be isolated from other patients. (Source: De Standaard 26 February 2020)
The University KU Leuven has set up a coordination committee to deal with the virus.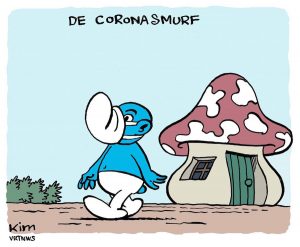 Excellent update in Dutch on COVID-19, in Europe and around the world:
"De hele wereld strijdt tegen het uit China afkomstige nieuwe coronavirus Covid-19, met vaak verstrekkende gevolgen voor onder meer de economische en de sportwereld. Volg hier de laatste ontwikkelingen."
https://www.knack.be/nieuws/wereld/coronavirus-duitsland-staat-aan-het-begin-van-epidemie/live-normal-1569303.html
It gives details on the European countries with recent cases: Italy, France, Spain, Germany, UK, Greece, Croatia, Norway, Finland, Sweden, Georgia, North Macedonia, Austria, Romania. And more of the worldwide propagation.
(Source: Knack)
COVID-19 details revealed
Coronavirus far more likely than SARS to bond to human cells due to HIV-like mutation, according to a research team from Nankai University; it shows the new virus has mutated gene similar to those found in HIV and Ebola.
The new coronavirus has an HIV-like mutation that means its ability to bind with human cells could be up to 1,000 times as strong as the SARS virus, according to new research by scientists in China and Europe.
The discovery could help to explain not only how the infection has spread but also where it came from and how best to fight it.
This could be the reason why COVID-19 is more infectious than other coronaviruses.
(Source: SCMP)
The impact for EU companies
Coronavirus, trade war a 'double whammy' for foreign firms in China:
Containment measures for disease dashed hopes that trading conditions might improve, says chairman of southwest branch of EU Chamber of Commerce in China.
See SCMP https://www.scmp.com/news/china/diplomacy/article/3052529/coronavirus-trade-war-double-whammy-foreign-firms-china-eu
Some quotes:
Authorities must now provide firms with clear guidelines and support to help them get back in business.
While cities across China are trying to get back to normal after mandatory lockdowns and other restrictions, for many the damage has already been done.
Many in the business community have complained of manufacturing being severely disrupted and that the emergency measures introduced to keep firms operational have resulted in massive cost increases, lengthy delivery delays and, ultimately, the loss of customers.
Some member companies have already moved certain production lines to factories they have elsewhere in the world, to supply the goods that they cannot supply from China.
The concerns were echoed in a survey published on Tuesday by the British Chamber of Commerce in China. The poll of 135 British firms said that a shortage of face masks was the main problem for manufacturing companies trying to restart their lines, while the lack of clarity was also causing concerns.
Read the article for more details.
Caixin added:
The surveyed British firms said the biggest impacts of the virus came from reduced demand, global travel disruption and ongoing uncertainty. More than half of the businesses' offices in China remain closed and about one-third have postponed investment decisions, although 70% said they had not shuttered their Chinese mainland manufacturing facilities.
See also this from Sinocism:
Very detailed analysis of the coronavirus' impact on Chinese economy by former NDRC economist Zhang Anyuan. He believes it will be "extremely difficult" for China to achieve the 5% growth goal for 2020 if there is zero growth in Q1. He also said the capital flight out of China in the past years has been shocking. His calculation suggests that since 2015 the capital flight not included in China's official statistics has totaled nearly one trillion USD.
American drugs and Amazon sellers in danger
About 150 prescription drugs — including antibiotics, generics and some branded drugs without alternatives — are at risk of shortage if the coronavirus outbreak in China worsens.
China is a huge supplier of the ingredients used to make drugs that are sold in the U.S.
The FDA declined to comment on the list, but said in a statement that it's "keenly aware that the outbreak could impact the medical product supply chain" and has devoted additional resources toward identifying vulnerabilities to U.S. medical products.
(Source: Axios)
Thousands of Amazon.com Inc. sellers who built their businesses using China's cheap and efficient manufacturers are on the spot as the coronavirus shuts factories there. Sellers say Amazon's ranking algorithm demotes products that are out of stock. To avoid that painful fate, many are raising prices to slow sales, and attempting to shift production to other countries.
Hmmm American consumers will feel the pain…
(Source: Sinocism)
Trump the genius in virus
Saw most of the White House press conference on the coronavirus.
Pathetic, with all the sycophants heaping praise on the emperor. And the emperor contradicting his own specialists and minimizing the seriousness of the outbreak. Thanks to him the CDC has seen budgets cut and is short of staff.
So, being well prepared is a bit of wild imagination.
Also having vice president Mike Pence being in charge with zero experience will certainly help.
The budget promised by the White House is also considered inadequate.
How can the U.S. stop COVID-19 when the seasonal flu rages all over the country killing tens of thousands?
Beijing to quarantine people if they visited countries seriously hit by coronavirus
26 February (Reuters) – China's capital will quarantine people for 14 days at home or in groups if they have been to countries seriously hit by the coronavirus, the city's health commission told a press briefing on Wednesday. One country is South Korea.