No more international flights
Lots to report, more COVID-19 (bad) news. More tomorrow.
Flights to Beijing Diverted to 12 Other Cities Over Imported Coronavirus Concerns – Caixin
The move comes after all arrivals to Beijing, one of China's top international gateways, were initially required to undergo 14 day quarantines at designated local hotels. As those hotels filled up, the city rolled out a new policy last week requiring many inbound flights to stop first at a handful of other cities to relieve the pressure.
Under the latest policy, China's aviation authority has designated the 12 airports in Tianjin, Hohhot, Taiyuan, Shanghai's Pudong New Area, Shijiazhuang, Jinan, Qingdao, Nanjing, Shenyang, Dalian, Zhengzhou and Xi'an to act as first port of entry for all inbound flights destined for Beijing.
See here one hotel where fellow Rotarians are currently in quarantine. One unlucky lady landed in a room without WIFI and it cannot repaired because nobody can enter the room… Otherwise nice prison.
Lijingwan International Hotel Beijing
No. 28 North Shilipu, Dongsihuan Road, Beijing, China
Chinese economy
See the latest from China Economic Review, basically what I already wrote a few days ago.
Foreign orders at Chinese exporters plunge as pandemic widens.
As Chinese manufacturers return to work following a nearly two-month shutdown during the COVID-19 epidemic, many are finding they have no work because foreign clients cancelled or slashed orders as the pandemic spread globally, reported Caixin.
China's Ministry of Commerce Monday warned that the foreign trade sector may face a decline in orders even though two-thirds of key manufacturers outside of Hubei, where the outbreak hit the hardest, have resumed more than 70% of operations. Several exporters told Caixin that their business is worse than after the financial crisis of 2008. "The whole world feels paralyzed," said one.
In Yiwu, the world's largest small-commodity wholesale market in East China's Zhejiang Province, a jewelry exporter said 5% of its orders have been canceled since last week, and those that haven't done so are considering scaling back or delaying shipments. "Last week, an Italian client suddenly told us they don't need the goods anymore," the jewelry exporter said. "Some clients are asking for a two-month delay in shipment."
March is usually the business peak for jewelry exporters. Orders for the spring and summer collections are usually fulfilled at this time, and clients begin to place orders for their fall and winter collections. But this year the company hasn't received any new orders and expects a 30%-40% decline in total orders for the year, the Yiwu jewelry exporter said.
The Tip of the Iceberg
Virologist David Ho (BS '74) Speaks About COVID-19
20 March 2020
https://www.caltech.edu/about/news/tip-iceberg-virologist-david-ho-bs-74-speaks-about-covid-19
You are warned…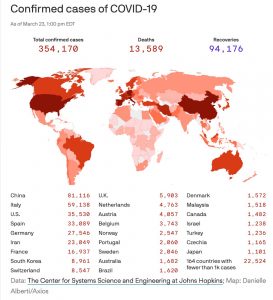 Extract:
In New York, we know that we are in the exponential growth phase of the epidemic.
Looking back at what has transpired throughout the world, we saw the first wave hit China; the second wave hit South Korea, Italy, and Iran; and then, trailed by only about a week or so, France, Germany, Spain, and the U.S. We all know that China went through a period of great devastation. It has over 80,000 cases. Italy is rapidly catching up, with over 31,000 cases. We suspect that in the U.S. this will rapidly sweep from the coastal regions and it will hit middle America. It is already there, but we will see exponential growth very, very soon. Then of course we are all worried about what would happen when this epidemic strikes places like Africa and India where the health care system is less developed.
Silent carriers
A third of coronavirus cases may be 'silent carriers', classified Chinese data suggests
More than 43,000 people in China had tested positive without immediate symptoms by the end of February and were quarantined. It is still unclear what role asymptomatic transmission is playing in the global pandemic.
SCMP 22 March 2020
https://www.scmp.com/news/china/society/article/3076323/third-coronavirus-cases-may-be-silent-carriers-classified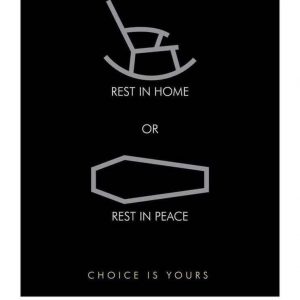 The number of "silent carriers" – people who are infected by the new coronavirus but show delayed or no symptoms – could be as high as one-third of those who test positive, according to classified Chinese government data seen by the South China Morning Post.
That could further complicate the strategies being used by countries to contain the virus, which has infected more than 300,000 people and killed more than 14,000 globally.
More than 43,000 people in China had tested positive for COVID-19 by the end of February but had no immediate symptoms, a condition typically known as asymptomatic, according to the data. They were placed in quarantine and monitored but were not included in the official tally of confirmed cases, which stood at about 80,000 at the time.
Scientists have been unable to agree on what role asymptomatic transmission plays in spreading the disease. A patient usually develops symptoms in five days, though the incubation period can be as long as three weeks in some rare cases.
The approach taken by China and South Korea of testing anyone who has had close contact with a patient — regardless of whether the person has symptoms — may explain why the two Asian countries seem to have checked the spread of the virus. Hong Kong is extending testing to airport arrivals in the city, even if travellers have no symptoms. Meanwhile in most European countries and the US, where only those with symptoms are tested, the number of infections continues to rapidly rise.
Coronavirus could linger in Europe for two years, Chinese expert says
SCMP 22 March 2020
https://www.scmp.com/news/china/diplomacy/article/3076339/coronavirus-could-linger-europe-two-years-chinese-expert-says
Edited extract:
'It would be perfectly normal if the virus comes and goes' with the seasons, Zhang Wenhong, head of Shanghai's COVID-19 clinical expert team, tells Chinese expats, students in Germany.
'If only the whole world could stop moving for four weeks, the pandemic could be stopped,' he says.
A Chinese expert on infectious diseases said Europe must give up on the idea that the COVID-19 pandemic will be over soon and instead prepare for a battle that could last for up to two years.
The warning – from Zhang Wenhong, head of Shanghai's COVID-19 clinical expert team – came as European countries, including Italy, Spain and Germany, are experiencing sharp rises in the number of infections and deaths, while China is working to keep out imported cases after reporting only one new domestic case in the past four days.
"It would be perfectly normal if the virus comes and goes, and lasts for one or two years," Zhang said during a videoconference organised by the Chinese consulate in the German city of Düsseldorf.
"I can tell you now, forget the idea that the pandemic will come to an end in Europe in the near future."
Zhang, who is also director of the infectious diseases department at Huashan Hospital of Fudan University in Shanghai, earlier predicted that the epidemic within China would peak between April and June, before falling back in summer, returning sporadically through autumn and winter, and peaking again, though probably on a smaller scale, next spring.
"To resolve this outbreak in a short period of time, measures have to be extremely radical," Zhang said, adding that China was able to impose widespread city lockdowns thanks to the fact that the initial outbreak coincided with the Lunar New Year holiday, when schools and businesses were set to close anyway.
"If only the whole world could stop moving for four weeks, the pandemic could be stopped," he said.
The case of South Korea
As reported in NYT on 24 March:
How South Korea flattened the curve:
South Korea reported its lowest number of cases since last month on Sunday — a remarkable turnaround from the several thousand cases that exploded there in late February and early March.
Its strategy was not the full lockdown that China employed, or even the widespread restrictions that the U.S. and Europe have implemented. Instead, it focused on swift, widespread testing and contact tracing, our Interpreter columnist writes.
In the week after its first reported case, South Korea moved rapidly, eventually opening 600 testing centers and keeping health workers safe by minimizing contact. Once someone tested positive, officials meticulously traced their movements using security camera footage, credit card records, even GPS data from their cars and cellphones.
Reminder: South Korean officials caution that their successes are tentative. A risk of resurgence remains, particularly as epidemics continue raging beyond the country's borders.
Other good examples (source: AXIOS)
But while small towns can spark big outbreaks, they can also provide clues for how to fight them.
The town of Vò, home to Italy's first death from COVID-19, tested all 3,000 of its inhabitants, quarantining those infected even before they showed symptoms. 89 tested positive, and the disease was defeated there within two weeks, per the Guardian.
Wakayama, Japan, had similar success. Authorities there traced the contacts of two doctors who had the virus (470 people), tested them (10 were positive) and ended the outbreak there, per the Washington Post.