Not getting any better, on the contrary
The COVID-19 devastation is becoming more obvious, not by the day but by the hour.
Shocking to read that in Antwerp (Belgium) 5 older people in the same service flats building died in one week; 3 men and 2 women, ages between 65 and 80. It shows how this virus can be a ruthless killer.
With incompetent leaders like Trump and Boris, as well as in other EU countries, this is going to get worse. Good luck for Easter Holiday.
At least, slowly, the situation in China is getting better, but I don't expect restrictions to be eased soon in Beijing. See what people arriving to Beijing will face. Those trying to fool the health people by taking fever medicine will end up in prison. Because a urine test will be used to detect that.
Meanwhile Beijing mentioned the wide application of TCM in the hospitals. Over 90% of the patients treated were given TCM treatment and 90% have shown improvement.
Read: http://covid-19.chinadaily.com.cn/a/202003/24/WS5e79429fa310128217281624.html
And read here the 6 effective TCM recipes for COVID-19:
http://covid-19.chinadaily.com.cn/a/202003/17/WS5e702f52a31012821727fa19.html
Conspiracy story denied by … China
Interesting read:
22 March 2020 – Top Chinese official disowns U.S. military lab coronavirus conspiracy
https://www.axios.com/china-coronavirus-ambassador-cui-tiankai-1b0404e8-026d-4b7d-8290-98076f95df14.html
No, Americans did not bring it to Wuhan.
On another note, memory being short in China (and USA), Xinhua had a name for the virus in the early stages. Needless to say, most cleaned up on the Internet. But the Internet has a memory…
Airborne, again again
WHO considers 'airborne precautions' for medical staff after study shows coronavirus can survive in air
16 March 2020
https://www.cnbc.com/2020/03/16/who-considers-airborne-precautions-for-medical-staff-after-study-shows-coronavirus-can-survive-in-air.html
WHO reversed their earlier position that COVID virus is not air borne.
Copper, Steel – 2 hours
Paper, Plastic – 3-4 hours
Air – 8 hours or more depending on conditions.
Well, I mentioned this earlier already on 18 March 2020:
COVID-19 newsletter
Trump is married to the stock market
Trump is only concerned about the stock market (and his election). Screw the hospitals and the sick. He cut the budgets of CDC in the past(*), resulting in today's mess. Does not mobilize manufacturing of the critically needed equipment. He wants to help companies and industry but never mind the workers. Oh yes otherwise he could be called a "socialist".
Also, several months before the coronavirus pandemic began, the Trump administration eliminated a key American public health position in Beijing intended to help detect disease outbreaks in China, Reuters has learned.
The American disease expert, a medical epidemiologist embedded in China's disease control agency, left her post in July, according to four sources with knowledge of the issue. The first cases of the new coronavirus may have emerged as early as November, and as cases exploded, the Trump administration in February chastised China for censoring information about the outbreak and keeping U.S. experts from entering the country to help.
Let's guess and bet who will be right for USA by 1 May; see also further down:
300,000 infected 5,000 dead
1.5 million infected 20,000 dead
Not close to any of the above, less or much more
(*) speech senator Sherrod Brown, see:
According to U.S. CDC projections:
– Between 160 million and 214 million people could be infected. That could last months or even over a year.
– As many as 200,000 to 1.7 million people could die.
– 2.4 million to 21 million people could require hospitalization, potentially crushing the nation's medical system, which has only about 925,000 staffed hospital beds.
Next virus epicenter?
No comments. Read the article.
24 March 2020
U.S. could be next 'virus epicenter' as India locks down, global recession looms
https://www.reuters.com/article/us-health-coronavirus/u-s-could-become-next-coronavirus-epicenter-who-says-idUSKBN21B1RJ
GENEVA/NEW DELHI (Reuters) – The United States could become the global epicenter of the coronavirus pandemic, the World Health Organization said on Tuesday, as India announced a full 24-hour, nationwide lockdown in the world's second-most populous country.
Comments AXIOS (repeating what I said several times):
Millions of Americans are losing their jobs at the same time as their families face a once-in-a-century pandemic.
The lockdown is particularly devastating for service workers, blue-collar workers and small businesses, and Senate Democrats today blocked the Phase 3 stimulus bill for the second time in 24 hours. (They want more protections for workers and more strings attached.)
White-collar workers are obviously not immune from coronavirus hardships, but their jobs are the simplest to make remote.
Another short news flash: Las Vegas completely stopped. 200,000 people without work. Just one example of the many.
Bill Gates and other prophets of doom
Unfortunately they were right.
Bill Gates talked in 2015 of the impending catastrophe with a virus. What will kill is not nuclear missiles. It will be a coronavirus.
Could not be more clear.
"In his 2015 TED talk, Gates does not specifically call out the coronavirus but does predict the impact of a potential epidemic and lays out a path for preparing for it. Based on our research, we determine the claim that Bill Gates nominally predicted the coronavirus pandemic – and the world's ability to respond to it – to be TRUE."
Read: https://www.usatoday.com/story/news/factcheck/2020/03/22/coronavirus-fact-check-did-bill-gates-predict-outbreak-2015/2890900001/
Link to the TED talk: https://www.youtube.com/watch?v=6Af6b_wyiwI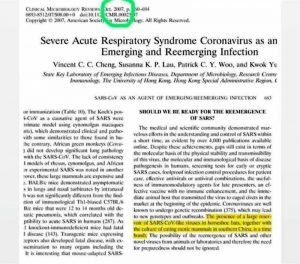 More chilling even is the warning of the research team that worked on the SARS virus.
They published the paper in October 2007.
They wrote:
"The presence of a large reservoir of SARS=CoV-like viruses in horseshoe bats. together with the culture of eating exotic mammals in southern China, is a time bomb."
The bomb exploded in November 2019 as far as we know.
And I immediately commented on it. Read my earlier post:
Virusland is back
Posted on 30 January 2020
Nothing was learned.
Japan July 2020 Olympics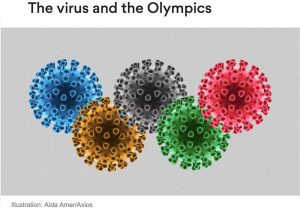 As predicted, not this year. That was pretty obvious.
New Chinese publication in French
"La Chine au Présent" has a new magazine, well done, see: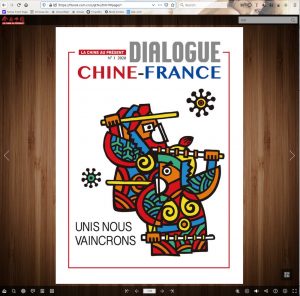 https://flbook.com.cn/c/gt1kJZhtH1
And yes, focus on COVID-19!