Restaurant overbooked
Our lunch for Old China Hands 5 February met for the first time a problem with Morel's Restaurant. The reason: the restaurant has seen an intense flow of customers, mostly Chinese, who want to test European cuisine and have a good time as they cannot travel abroad or even within China. The online clip from a foreigner "Caocao" – pretty famous guy in the online media – drew some 10 million hits if I got it right. So the Chinese want to eat what he praised so much…. Result, the restaurant never sold so many steak béarnaise…
Interesting fact: Chinese customers spend much much more per head than foreigners in general. Look look who has the money these days…
The restaurant was forced to give us only 30 seats, many of our Old China Hands were disappointed as they were refused… Sadly some failed to show up, stealing away seats for the others. Poor attitude.
We ended with 28 people. We hope that the next lunch will not have the same limitation!
See some of the dishes that were on our menu.
When I apologized to other Chinese customers for our lively presence, they actually replied they found it very interesting!
Next lunch
Our next lunch is planned for Friday 5 March, the first for the Year of the Ox.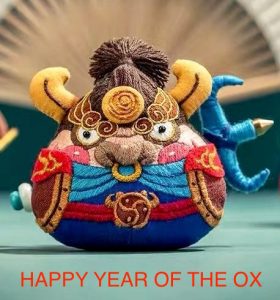 Hopefully the virus situation will remain under control…