One week later
Our Old China Hands 8 October lunch saw 29 attendants, one week later than normal because of the 1 October holiday.
A special event as a crew of five from BTV (Beijing TV) is making a documentary with me and wanted to shoot a bit during our lunch. Some of our OCH were interviewed.
The BTV people came to my home office around 9 am, went to the lunch, went back to my home office after the lunch. They left 6:30 pm and I was really exhausted. The joke I made, they shot about anything except me going to the toilet. Curious to see what they will make of it.
I don't have good pictures of their shooting day as I was alone at home.
Other shooting planned soon, along with our Dutch architect John, see:
"John van de Water talked to Rotary", https://www.beijing1980.com/2021/09/22/john-van-de-water-talked-to-rotary/
No idea when it will be finished and shown.
Great get together as usual and all happy with company and the food.
The documentary
The theme of the documentary is the "Beijing Central Axis", also about myself and about John. The shooting plan was first discussed in my office on 19 September 2021.
Today many people even don't know what it means. I was involved with the idea during the preparation of the 2008 Olympic Venues. See the pic from Beijing This Month magazine.
I also have the detailed study done in 2002 by the German architect Albert Speer Jr. for the Beijing Government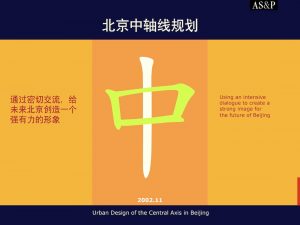 Albert Speer Jr. was a German architect and urban planner. He was the son of Albert Speer, Adolf Hitler's chief architect before assuming the office of Minister of Armaments and War Production for the Third Reich during World War II. His grandfather, Albert Friedrich Speer, was also an architect. Wikipedia
I met him in Beijing in 2005 and he wrote a very kind thank you letter for the meeting. He passed away in 2017.
Next lunch
The next lunch is planned for Friday 5 November. Stay tuned!