Skype interview
On 22 March 2023 Gilbert was interviewed by The Bridge (CGTN): "We talk about consumer waste around the world with the author of Toxic Capitalism".
Here is the latest link from CGTN.
The interview on Skype was with Jason Smith and (Ms.) Beibei of The Bridge Radio Show and Podcast.
Jason is now also a regular at our Old China Hands Monthly Lunch!
The interview was pleasant and well structured. The funny thing was, Jason mentioned to Beibei they were going to interview me. Beibei surprised, turned around and showed Jason the copy of my book Toxic Capitalism that she had just bought. Then Jason ordered another copy for himself – he could have bought it directly from me!
So there was a lot of talk about environmental topics, along the many other.
The introduction on the website:
"Sir Gilbert Van Kerckhove from Ghent, Belgium, has lived in China for four decades. While working in the country, he led the initiative to build Shanghai's Line 3 in the 1990s and was involved in the preparations for the 2008 Summer Olympics in Beijing. In his book Toxic Capitalism, he shares extensive knowledge on global consumerism and wastage, and how to tackle these challenges. A recipient of the highest award for foreigners in China: The Friendship Award, Van Kerckhove is also the Rotating Chairman of Foreign Expert Committee, Belt and Road International Talent. We ask him about environmental efforts in modern China and how he views his 43 years in the Middle Kingdom."
Other audio links
The full intro about me:
"Gilbert Van Kerckhove, is from Ghent, Belgium where he graduated with a master's degree in electronic engineering. He speaks Dutch, French, English, Portuguese, German, survival Spanish, and survival Chinese. He first moved to China in 1980. He is the president and founder of Beijing Global Strategy Consulting Co., Ltd., a Wholly Owned Foreign Enterprise in management consulting that provided strategy guidance, investment & development advice and lobbying to foreign and Chinese companies and entities.
Since early 2000 he has been assisting the Beijing Municipal authorities in the areas of economic studies and foreign investment promotion.
He was deeply involved in the preparations for the 2008 Summer Olympics in Beijing. His book Toxic Capitalism was published in August 2012. He is a recipient of the highest award for foreigners in China: The Friendship Award. He is also the Rotating Chairman of Foreign Expert Committee, Belt and Road International Talent.
He's earned the Knight in the Order of the Crown – Belgium (21 November 2004 – by HRH Prince Philip).
And finally he has also worked in Brazil, Nigeria, Spain, Thailand, Indochina and Burma (Myanmar). There's more, but we only have an hour. Welcome to the show Gilbert."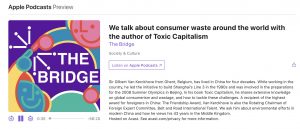 The podcast is on a range of other websites:
– Spotify
– Audible
YouTube video
A short clip is on YouTube, now with my first name corrected … (thanks!)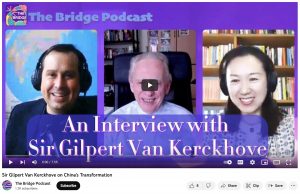 "Author Gilbert Van Kerckhove Discusses China's Transformation" (Need VPN)