BBQ Capital
Our visit to Zibo was of course to check out "Zibo BBQ capital of China"! Here the third and last post about our visit.
Since early March 2023, the local barbecue has caused a sensation online. The little double-layer charcoal stove, small pancakes, green onions and sauce became icons among netizens. Zibo has made a name for itself with its grilled meat pancakes. I also tried to make those!
Zibo, a city of 4.7 million, received 4.8 million visitors in March, with a year-on-year increase of 134%, and tourist revenue was up by 60%. A total of 1,288 barbecue businesses served 135,800 customers a day on average, most of whom were university students from across the province and nationwide.
About 120,000 people – many searching for barbecue food – visited Zibo over five-day Labor Day holiday this year.
Online travel agency Qunar said that every tourist who went to Zibo for a barbecue meal spent 750 yuan on average on the trip, including transport and accommodation. That is about half the per capita spending of visitors to more well-known and established tourist centers like Chengdu in Sichuan province.
The local government has set up 21 buses to ferry visitors from the train station directly to barbecue restaurants. They erected the barbecue festival on the site of a sprawling seafood market, the only place big enough to host 10,000 people. The place we visited was said to host 20,000 people – so not sure about the figures.
On the bus
We went to one of the new BBQ villages outside of the city center, on a bus with the Shandong University Medical Alumni Association. There was a monstrous traffic jam on the highway approaching the BBQ village.
We were told the location serves 20,000 and customers often eat in shifts. We spent the whole evening with our group. While some other locations are said to be a bit dangerous with drunken people and fighting, our location was super crowded but with good security and there was no any incident.
It all was a bit chaotic as we were all packed together sitting on small stools, or some on cartons of beer. I was told the normal cost per person is less than RMB100, without drinks. Our group had arranged a lot of beer and other drinks.
One cannot say the BBQ is that special but it is really the experience of being in the middle of the BBQ chaos. We had too many BBQ skewers of all kinds, all kinds of meat, sausages, fish and more. And I tried to make the famous local pancakes. Let's say it was fun.
In the media
The BBQ story was all over the national and international media, China Daily, SCMP and even New York Times. I collected the media articles, see here the PDF file.
Short video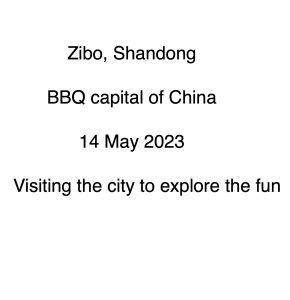 I tried to assemble a short video: "14 May 2023 with the group of Shandong University Medical Alumni exploring the famous Zibo BBQ scene, Chaotic video of chaotic evening!" (need VPN)