Kempinski Hotel 18 May 2021
Rotary Beijing discussed mental health during their lunch thanks to Enoch Li.
Enoch was our very interesting speaker on the topic of Mental Health, now gaining a lot of attention by Rotary International and the Chinese government. This is a much misunderstood subject. Enoch corrected the wrong understanding of mental issues, illustrated the growing awareness of this medical condition and explained how we can address it correctly.
Enoch is a former member of our Club. Some ten years ago she left as she was going through a personal tough time. Previously she was a successful expat with HSBC, in London, Paris, Tokyo, and Beijing. Originally holding a Master in Law, she furthered her studies in INSEAD and Institutes in the field of Social Systems, Play Therapy and Small Group Training. She has been featured on many international media and is a regular public speaker.
In her talk she looked back at her studies, her successful career and how she was suddenly overwhelmed with depression, as recorded in her book "Stress in the City".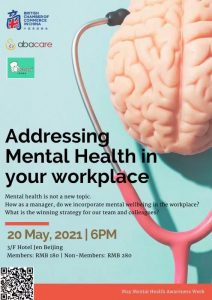 See here Enoch taking the floor in the British Chamber of Commerce in Beijing.
More about her work: http://bearapy.me/
Enoch Li: "Stress In The City"
I bought her book and I was very impressed.
See here my book review:
https://www.damulu.com/2019/06/20/stress-in-the-city/