Message to our ill-informed Chinese
As part of my more updates on COVID-19:
I mentioned the blatant xenophobic and racial reactions towards foreigners "who are dangerous, importing the virus".
Well, see this:
No Foreigners Among Beijing's 31 Imported Cases So Far
16 March 2020
Of the 31 reported cases of COVID-19 that have come in from overseas so far, all have been Chinese citizens and 27 were determined to be symptomatic on the plane, Beijing CDC deputy director Pang Xinghuo said at this afternoon's press conference on epidemic control.
Pang gave the details as part of a statistical snapshot on imported cases of the disease, which at this point is now the main route of new infections in the capital, as well as other parts of China outside of Hubei.
Pang said that to date, 26 of the 31, or 84%, came from the following five routes:
Aeroflot SU204 from Moscow
Etihad Airways EY888 from Abu Dhabi
Emirates EK306 from Dubai
Air China CA938 from London
Air China CA846 from Barcelona
The 31 confirmed passengers are from Zhejiang (13 cases); Beijing, Gansu, Hubei, Liaoning, Ningxia Shandong, and Sichuan, (two each); Hebei, Fujian, Xinjiang, and Yunnan (one each).
Read the full article:
https://www.thebeijinger.com/blog/2020/03/16/no-foreigners-among-beijings-31-imported-cases-so-far
See here the original source in Chinese:
https://mp.weixin.qq.com/s/PTJz5_cLfpXKtcpdW0uHkg
Here in Word: 200316 noforeigners
Another source: 20,000 people arrive in China daily, with 10% being foreigners.
Fake news and more
China continues to feed fake news that the virus is not from China (maybe brought by UFO?). They will repeat it so many times till they start believing their fake stuff. Pathetic.
I don't need to mention all the world news about border closures, lockdowns, etc. It's all over the media. Armageddon.
Worrying in my opinion are the "danger zones", the areas in the world where we still can expect dramatic increases in the spread of the virus. See a snapshot of those.
Yeah maybe better now to be in Beijing.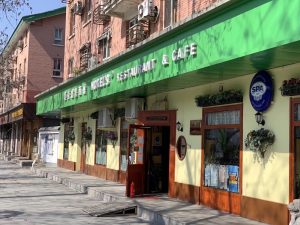 Well, Morel's Restaurant opened today! What a relief! They even admitted Chinese to enter.
Imported cases the new danger
See two China Daily articles, both "omitting" the fact the imported cases are all from Chinese: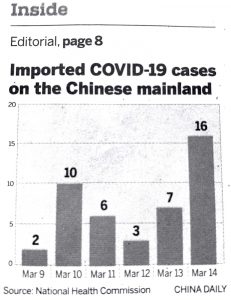 "Imported cases face tougher measures"
http://global.chinadaily.com.cn/a/202003/16/WS5e6e8a3da31012821727f37e.html
and
"Control of imported cases now crucial: China Daily editorial"
http://global.chinadaily.com.cn/a/202003/15/WS5e6e16bfa31012821727f341.html
Otherwise most of the policies were already explained in my previous post.
Beijing quarantine
Further to my earlier post, it seems that the exceptions to mandatory quarantine in designated hotels would be for people over 70 years old, pregnant women, unaccompanied minors and even "people living alone".
Welcome to Beijing! Example of designated hotel Tangyun in Huairou
A short clip circulating in Beijing: Chinese invasion from abroad in Beijing Airport.
Is China's growth streak over?
I fully agree with this comment in the NYT:
The economic fallout from China's fight against the coronavirus outbreak became much clearer. this week: It's very possible the economy contracted in the first quarter, for the first time since 1976.
The first official numbers since Beijing locked down parts of the country are out: Industrial production, retail sales and investment all posted record double-digit drops for the first two months of the year, compared with the same period in 2019.
Though government officials played down the news, saying it was too early to tell whether the economy contracted, the data released on Monday was even more dismal than many economists had anticipated.
Looking ahead: It could be months, if not longer, before the country is fully up and running again. Tens of millions of migrants who work in China's factories are still stuck in quarantines or in their hometowns. And consumers are still not shopping.
Not mentioned in the comment: with world trade grinding and international & local travel to a halt, China's usual markets will order less and will not be able to import… So even when China is "back to normal" their export markets won't. And forget about international tourists visiting China.
Alibaba donates to Belgium and USA
In Dutch: Alibaba Foundation sending 500,000 masks to Belgium, also 30,000 test kits. And also donating to USA (in English).
Alibaba Foundation schenkt 500.000 mondmaskers dankzij tussenkomst koning Filip
16/03/20
https://www.knack.be/nieuws/gezondheid/alibaba-foundation-schenkt-500-000-mondmaskers-dankzij-tussenkomst-koning-filip/article-news-1577167.html
Coronavirus: Masks and test kits donated by Jack Ma arrive in US
SCMP 17 March 2010
Chinese-made supplies will be distributed by US Centres for Disease Control and Prevention amid shortages in United States.
The first shipment of Chinese billionaire Jack Ma's donation of 1 million masks and 500,000 coronavirus test kits to the United States arrived in the US on Monday morning.
The supplies, which will be distributed by the US Centres for Disease Control and Prevention (CDC), were purchased in China since its factories have gradually resumed production. The shipment of a second batch will depend on availability, said a spokesman at the Jack Ma Foundation.
Hoarding
I don't understand this meaningless hoarding going on in Western countries, never saw this in Beijing during the outbreak. What's wrong with this people? Then they say Chinese are crazy… WTF. Buying toilet paper, water whatever. And guns? Stupidity has no borders.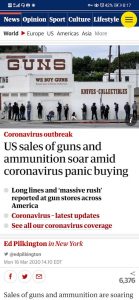 Watch this crazy line of people in Cypress (USA) to enter COSTCO.
WATCH: Hundreds line up at Costco in Cypress amid coronavirus outbreak
Costco for weeks has seen a crush of shoppers swarm its big-box stores, loading up on paper goods and food. Other retailers such as Target and local grocery stores have seen their shelves wiped clean of hand sanitizer, toilet paper and paper towels.
A line on Friday extended out of the Cypress Costco about a quarter-mile to surrounding streets as people waited to get inside. Shoppers were told around midday that the store had sold out of paper products and store-brand bottled water.