Beijing to quarantine all international arrivals for 2 weeks in special facilities
Beijing will quarantine travelers from overseas for 2 weeks in medical treatment stations starting Monday, local authorities said Sunday, as China steps up measures against coronavirus cases coming from overseas.
People arriving from abroad had previously been allowed to undergo a mandatory two-week quarantine at home, but now only those in "special circumstances" will be exempted from being sent to facilities where they must pay for their own stay.
People's Daily, 15 March 2020
https://peoplesdaily.pdnews.cn/2020/03/15/china/beijing-to-quarantine-all-international-arrivals-for-2-weeks-in-special-facilities-133904.html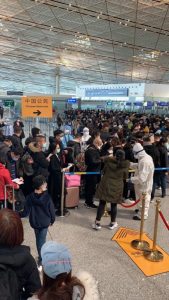 Terminal 3 in Beijing yesterday with also massive queues to pass health checks.
The designated medical treatment stations are staffed with professional medical workers to carry out health monitoring. Those who falsely report information, conceal a disease or cause the spread of the epidemic will be punished according to the regulations, Beijing Daily reported Sunday.
Feedback from arriving passengers
Mixed reviews…
It takes some time after arrival to proceed from the airport to the reception center in Shunyi. All must undergo quarantine in designated hotels, normally close to the place of residence but others are being send to Huairou or other locations outside of the city. Some hotels are up to RMB 700 per night, price range can be from 200 upwards, including 3 meals. The only hotel in Dongcheng District would be RMB 420/night. They comment that overall it was "well organized". See one of the hotels (from WeChat group).
Others say it is a mess, you can't chose the hotels and prices are inflated…
See overview from SCMP on quarantine regulations, dated 14 March when the mandatory quarantine rules in Beijing were not yet announced.
As a rule, anything can change at any moment.
Another overview (Beijing not updated yet): https://www.nytimes.com/article/coronavirus-travel-restrictions.html
See here also overview done by American Chamber in South China, seems pretty updated and recommended:
https://mp.weixin.qq.com/s/N5dgq5JrBWGEDxAtQBzFWA
I AM NOT A VIRUS
As said earlier there is now a real xenophobia in Beijing. Some restaurants bar the "dangerous foreigners", because "restaurant could have problems if authorities see there are foreigners inside". For confidentiality I cannot give details.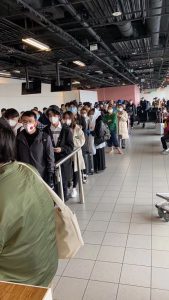 Chinese coming back from Schiphol, Holland, on a CZ plane. They are the real dangerous people and not most foreigners (see any?). Reason is Chinese abroad mostly have no insurance to look doctor so they want to come back for treatment. Vast majority barred from boarding in Europe are Chinese and most incoming sick people are returning Chinese.
To stop this, what I know the government now will NOT treat them free of charge. If they have the virus the bill for treatment is RMB 400,000. Message: "Don't come here, stay where you are if sick, we don't want you!"
Also:
The Washington Times – Sunday, March 15, 2020
The World Health Organization on Sunday said there is no evidence the U.S. introduced the coronavirus into China as suggested by Beijing's foreign ministry spokesman last week.
"We have neither seen the allegation nor any evidence to support it," WHO spokesman Christian Lindmeier told The Washington Times.
The quest for a vaccine
We've Got The Vaccine, Says Pentagon-Funded Company
12 March 2020
Canadian firm says it could make 10 million doses per month — if its innovative production method wins FDA approval.
A Canadian company says that it has produced a COVID-19 vaccine just 20 days after receiving the coronavirus's genetic sequence, using a unique technology that they soon hope to submit for FDA approval.
Medicago CEO Bruce Clark said his company could produce as many as 10 million doses a month. If regulatory hurdles can be cleared, he said in a Thursday interview, the vaccine could start to become available in November 2021.
An Israeli research lab has also claimed to have created a vaccine. But Clark says his company's technique, which has already been proven effective in producing vaccines for seasonal flu, is more reliable and easier to scale.
Read the full story:
https://www.defenseone.com/technology/2020/03/breaking-weve-got-vaccine-says-pentagon-funded-company/163739/
The Chinese economy
Good insight here:
Coronavirus: China's economy suffered dramatic collapse in warning to rest of world. Combined data for January and February showed that industrial production, retail sales and asset investment all declined far more than analysts expected. Lockdowns to control the coronavirus proved to be a constraint to economic growth, but with China now in recovery, data suggests what rest of the world could expect.
SCMP 16 March 2020
https://www.scmp.com/economy/china-economy/article/3075314/coronavirus-caused-dramatic-collapse-chinas-economy-warning
Bericht van prof Wim Derave, UZ Gent
Professor schrijft brief aan bevolking: "We zijn een eigenwijs en tegendraads volk, ons egoïsme gaat ons de das omdoen"
Er komt een drama op ons af als het gaat over het nieuwe coronavirus. Dat zegt Wim Derave, professor inspanningsfysiologie aan de UGent. In een brief naar "de medemens" haalt hij uit naar mensen die de maatregelen van de overheid niet serieus nemen. "Je kan het leven van een medemens redden. Wees niet egoïstisch. Bron: VRT NWS: nieuws
https://vrtnws.be/p.3k3PwwG4e
De volgende tekst is eigenlijk van een andere bron maar ziet er gelijk uit.