Welcome to Beijing
Beijing seems to be somehow improving, but rumor stories and xenophobia about COVID-19 are now new worries as I already mentioned.
As reported earlier, expect draconian measures of health check and quarantine when arriving from abroad in China. Well at least people can still arrive, other countries completely close the door. Like The Netherlands…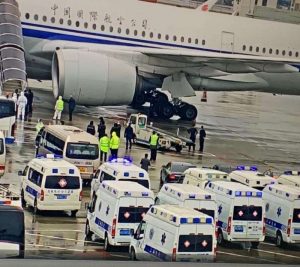 Happy I am here already. All looks HORRIBLE.
Shanghai is also getting more restrictive: It has expanded its list of countries, which are severely affected by the coronavirus pandemic, from four to eight. To the list of South Korea, Japan, Italy and Iran have been added France, Spain, Germany and the United States. Everyone who has been in any of the eight countries on the new list in the 14 days prior to their arrival in Shanghai must undergo a 14-day quarantine at home or in a designated place, the city government said on late Thursday.
23 February I wrote to my friends: "The virus can't be stopped. Around the world, it just started. While predictions are difficult I would say it looks very worrisome. It's the new flu."
Words of the times: cancelled – restrictions – closed – quarantine
Trump declares emergency now, after waiting for 6 weeks when he was already asked to act but refused because it was "another hoax". Because no worry, virus will go away like magic. Thank you Trump for protecting the EU by stopping air travel. OK to infect UK, no problem.
As I already mentioned myself (isn't that obvious?): "Coronavirus: Africa has few cases so far but it's just a matter of time before major outbreak. Most African countries do not have facilities to test for the virus, let alone treat it. Africa has major trade and travel connections with China and Italy, the countries hit hardest by the coronavirus outbreak."
SCMP 13 March 2020
Besides Africa, add USA and South America to the list for the same reasons.
Germany
Saw a video on WeChat (kla.tv), found out more about it: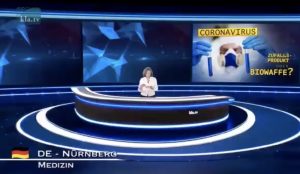 "Coronavirus eine gezielt erschaffene Biowaffe? Dubiose Fakten – und was dahinter steckt.
Um die Existenz des neuartigen Coronavirus ranken sich zahlreiche Theorien. Ein Video soll belegen, dass es sich bei dem Virus um eine gezielt eingesetzte Biowaffe handelt. inFranken.de nimmt die Aussagen aus dem Video unter die Lupe und erklärt, was hinter den Behauptungen steckt."
https://www.infranken.de/ratgeber/gesundheit/coronavirus-eine-biowaffe-dubiose-fakten-und-was-dahinter-steckt;art154607,4944278
The video claims we are looking at biological weapons. In short: considered as "fake news" with comments from dubious experts and wrong details.
Some translated parts:
"Corona virus a deliberately created bio-weapon? Dubious facts – and what's behind them.
There are numerous theories surrounding the existence of the novel corona virus. A video is to prove that the virus is a targeted biological weapon. inFranken.de takes a close look at the statements from the video and explains what is behind the claims. Corona virus video: Two alleged virologists as experts.
Two virologists are mentioned in the video, Dr. Alan Cantwell and Dr. James Lyons hamlet. The video tells of Cantwell that he found 107 references in the online database "PubMed", which suggest experiments with corona viruses. He also found that human and animal coronaviruses had been genetically engineered to produce pathogenic and mutant viruses for over a decade."
Chinese are xenophobe, not to say racists
More and more anti-foreign sentiment in China. Recently we saw the uproar against the new draft law on the Green Card. We foreigners are not welcome, we steal jobs, whatever.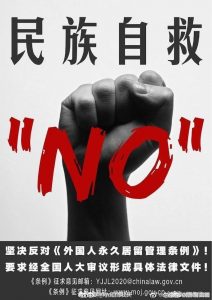 All that crap as China has the lowest amount of foreigners in the world. All while Chinese flood our countries with cheap manual labor.
Now Chinese say they should not meet foreigners because they have virus, some of my Chinese friends are afraid to take a picture with me as their office colleagues strongly advice against meeting foreigners.
Some restaurants don't allow foreigners.
"I AM NOT A VIRUS", remember? We silly foreigners were defending the Chinese in Europe being discriminated. Anybody in China will defend us? Nope.
Actually the most dangerous people to avoid in Beijing are Chinese returning from abroad. As I heard, Air China kicked out some 30 Chinese from the flight to Beijing and left them stranded in Frankfurt Airport. They had high temperature. (corrected on 16 March)
Oh well, all the crap about how "nice" Chinese are. Chinese and Japanese are probably the worst racist. We are welcome as long as we are useful, we are "tolerated". Do note I think this negative attitude is only with a certain section of the Chinese population, we also have pleasant experiences here. Otherwise, why are we here? Racism also exists in our Western countries.
Some of my friends not afraid of me. Dinner in a near deserted Lily's American Diner (nice place), long time no see.
Evading responsibility by making up stories
Several creative crazy stories trying to prove it is not a "Wuhan virus": Americans are to blame. At least many Chinese consider those as storytelling but still, the government let those fake stories go around. You try to say anything negative about the Great Leader and your WeChat account is closed.
Yesterday I complained the media did not report on those, that has now changed, finally.
See:
"US State Department summons Chinese Ambassador Cui Tiankai amid anger over Beijing coronavirus comments. Diplomat David Stilwell delivers a 'stern representation' of the US government's position to Cui Tiankai. Meeting in Washington follows Chinese foreign ministry spokesman's insinuation that the US military brought the coronavirus to China.
SCMP 14 March 2020
https://www.scmp.com/news/china/article/3075193/us-summoning-chinese-ambassador-over-beijing-coronavirus-comments
and also:
"Coronavirus conspiracy theories: US and Chinese politicians rush in where experts fear to tread. A Chinese foreign ministry spokesman who promoted online theories about the origins of COVID-19 is the latest high-profile figure to make unverified claims. Beijing angered by US politicians who have characterized it as a 'Chinese virus' and Senator Tom Cotton's suggestion it came from a lab in Wuhan.
SCMP 13 March 2020
https://www.scmp.com/news/china/society/article/3075177/coronavirus-conspiracy-theories-us-and-chinese-politicians-rush
See here one of the most detailed and fake stories going around:
https://mp.weixin.qq.com/s/lixXOTm51vw7mYKOTETcjg
All in Chinese. For those interested in this creative nonsense, see the PDF.
200301 Chineserumor
It seems most of the comments on this article dismiss it as fabrication. Well, reassuring in part.
Scientific efforts to trace back the virus
Coronavirus: China's first confirmed COVID-19 case traced back to November 17. Government records suggest first person infected with new disease may have been a Hubei resident aged 55, but 'patient zero' has yet to be confirmed. Documents seen by the Post could help scientists track the spread of the disease and perhaps determine its source.
SCMP 13 March 2020
https://www.scmp.com/news/china/society/article/3074991/coronavirus-chinas-first-confirmed-covid-19-case-traced-back