More about pole dancing
Yes pole dancing is a sport (part 2), see part 1 .
More about what happens in China and the history of the new sport and fitness craze.
The Way of The Pole
China's pole dance pioneers vie for a spot on the international stage.
14 July 2013 See: https://www.theworldofchinese.com/2013/07/the-way-of-the-pole/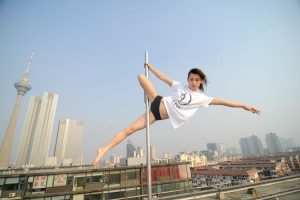 Cao Nao poses on a pole over the Tianjin skyline on the roof of the CPDSTC studio, where China's pole dancers go to become pros
I quote:
The China Pole Dance Sports & Training Center located in the heart of Tianjin is where China trains its premier pole dancers. The sport is getting a lot of attention and not just because of the opportunity for lechery. When standing in a room full of beautiful, scantily clad women, it should be made clear that it is actually a room full of beautiful, scantily-clad champions.
Though pole dancing has a reputation as more of a striptease than a sport, it is taken very seriously by a select few. Everything from the height of the pole to the duration of the song is taken into account, and points are deducted mercilessly; a minor slip or a bent leg could cost you an entire point out of 30.
Why is Pole Dancing Sexualized?
https://pickcreativehobbies.com/index.php/2020/11/20/why-is-pole-dancing-sexualized/
I quote:
The reason pole dancing is sexualized is because of its western modern origins where traveling circus-like crews would mount tents with a pole in the center holding it up and women would seductively dance around the pole in order to entice the male crowd.
From there it jumped to bars and clubs where the sexualization became even more accentuated. Clubs would build stages with the intention of having women dancing and stripping to attract the male clientele.
But as more and more people started participating in the activity and the popularity of the hobby grew, different avenues started to emerge especially when the physical benefits where acknowledged.
A massive change started to occur and the notion of stripping started drifting farther and farther from simple pole dancing to take a more sportsmanlike approach.
Pole dancing evolved from its infancy stage and matured becoming more of a means to achieve fitness rather than a form of sensual entertainment.
For too long the words pole dancing has been associated with stripping because both strippers and pole dancers use a pole to perform their routines.
it's origins definitely tainted the term, but it's an outdated notion, people need to be aware of the differences between now and then, there's a need for more information about the topic; this article will be helpful in putting a stop to misconceived, outdated ideas.
Hilton Hotel: pole dancing competition
As I posted on 24 November 2010:
https://blog.strategy4china.com/2010/11/sexy-pole-dancing-in-beijing/
Zeta Bar at the Hilton held one more pole dancing competition on Saturday 13 November 2010 – I had missed the first one in May. The bar was fully packed and we "did not have a seat". Lucky us, we were sent upstairs where we ended up having the best view of all.
Some of the girls were great and "attractive", can't say more, my wife was there too!
I had intended to stay till midnight but the whole family decided to watch till the very end and we were back home at 2 am.
See the pictures in the original post.
The movie – Posted on 6 December 2010:
https://blog.strategy4china.com/2010/12/sexy-pole-dancing-in-beijing-the-movie/