A scandal
Pole dancing is a sport, not a lewd performance! I had organized a dinner in Mango for friends, all very happy with the food and the cabaret show. When most had left we saw the pole dancing show. Pictures of it in a WeChat group offended a very few – none of them were present. One can argue posting the pics was misleading and not the best idea. A storm of indignation followed. A bit like those extreme American evangelists condemning me to hell for denigrating women. Gilbert! Repent!
Those most vocal are supposed to know China. Well, it seems they have no clue and need a seminar to learn about China today.
"Cabaret dancing" as in Mango (see here about the restaurant) is very popular in China and is mostly watched by Chinese families (yes, with the kids). They also often perform in the big bath houses where there are entertainment theaters. Chinese families, with kids, watch the shows.
This is the first part to explain what is pole dancing in China, part 2 to follow.
Pole dancing, very popular and accepted
See: "Fitness & Sports Industry in China: Pole Dancing, a New Discipline in China".
I quote:
China is interested in Pole dance, a sport that mixes gymnastics, acrobatics, and ballet. A challenging sport that combines ground and height movements, tricks (static figures) and spins (figures around the pole) demanding both strength and flexibility. The technical nature of this sport does not discourage Chinese athletes, who are more and more numerous every year to try that new discipline.
The full article, dated 15 March 2018: https://marketingtochina.com/pole-dancing-new-discipline-china/
Pole dancing in China Daily
China Daily has featured the sport several times. (Yes, it's a lewd newspaper) Three examples.
Don't get stuck! Pole dancers brave cold to compete
https://www.chinadaily.com.cn/a/202012/22/WS5fe1953da31024ad0ba9d5c6.html
Dated 22 December 2020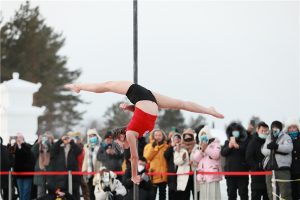 A pole dancer performs at the opening ceremony of the 2020 Pole Dance Cold Competition in Mohe, Northeast China's Heilongjiang province, on Dec 21, 2020. [Photo by Wang Jingyang/for chinadaily.com.cn] More pictures on China Daily website
The 2020 Pole Dance Cold Competition kicked off in China's northernmost city of Mohe, Heilongjiang province on Monday. The six-day event has attracted 23 excellent pole dancers from the national team, the highest-level team in the country.
Despite temperatures as low as -30 C, dancers presented graceful performances at the opening ceremony.
Beijing's first pole dancing school – China Daily
Posted on 7 February 2007
My original post: https://blog.strategy4china.com/2007/02/beijings-first-pole-dancing-school-all-thanks-to-china-daily/
Belly dancing is old-fashioned. Now, make way to pole dancing. All according to China Daily's website. See: https://www.chinadaily.com.cn/china/2007-01/31/content_797715.htm
The original article quoted by China Daily: "Chinese cautiously pole dance their way to fitness"
See https://www.reuters.com/article/us-china-poledancing-idUSPEK16567320070130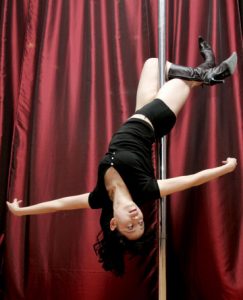 "A dance instructor shows a move to students at Roland pole dancing school in Beijing in this December 9, 2006 file photo. Treadmills are run-of-the-mill — Luo Lan wants the Chinese masses to pole dance instead. [Reuters]"
Pole-dancing a hit in Beijing
My original post: https://blog.strategy4china.com/2008/12/pole-dancing-a-hit-in-beijing/
Posted on 7 December 2008
According to China Daily, nothing to do with seedy strip clubs, like erotic dancers walk on stage, take off their clothes and their moves on the pole are quite suggestive.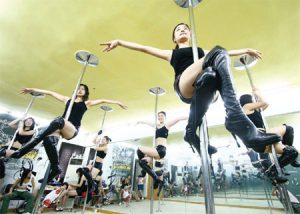 After the craze with belly-dancing, pole-dancing is in and at least one center is offering lessons (Royal Sound International Dancing Center).
The original article: "Poles apart from seedy image – 6 December 2008"
https://www.chinadaily.com.cn/china/2008-12/06/content_7278274.htm
Pole sports – Wikipedia
https://en.wikipedia.org/wiki/Pole_sports
I quote:
Pole sports, or poling, merges dance and acrobatics using a vertical metal pole. Athletes climb up, spin from, hang off, flip onto, jump off, and invert on poles. Poling requires agility, strength, balance, endurance, and flexibility. Pole-sports athletes include men and women of a variety of ages and physical abilities, including para-athletes, who perform alone or with others (for example, in doubles competitions).
Poling developed into a fitness activity and sport during the 1990s and 2000s, with national and international pole competitions. Poling has become a dance, fitness activity and sport, and continues to evolve. The International Pole Sports Federation is endeavoring to make poling an Olympic sport. The federation has held world championships since 2012, and poling was one of seven sports granted observer status by the Global Association of International Sports Federations in 2017.
Professional pole-sports leagues have been formed. The Pole Championship Series holds its annual championship at the Arnold Sports Festival.
Poling involves technique as well as artistry. In a pole competition, each athlete performs a routine to music. Athletes are judged on their ability to perform complex movements (e.g. spins and strength and flexibility poses), choreography, style, and expressiveness. Poles in pole-sports competitions are brass, 45 mm in diameter, with 4 m of usable height. In competition, athletes use a static (non-spinning) pole and a spinning pole. Their skin helps performers grip the slippery poles, and athletes wear clothing which exposes the skin on their shoulders, waist, arms and legs The Federation requires competitors to cover their pelvis, gluteal muscles and (for women) breasts. When using Chinese poles (which differ from Federation poles), thicker clothing protects the body.