Dinner in Morel's
A look back at the Rotary Club of Beijing, starting with our dinner on 18 January. Small crowd with a special guest, Jingfu, honorary member of the Rotary Club of Shanghai.
We were impressed with our member Kevin who fasted one day so he could deal with the really big trout (I usually recommend it for 3 people to share).
Krankin' thru China
"Krankin' thru China", a program launched by Joshua Dominick and Domonic Corradin, helps people with physical disabilities enjoy outdoor sports like paragliding, horseback riding, swimming, surfing and cycling. They presented their project to our club, on 10 August 2021, see: https://www.beijing1980.com/2021/09/15/rotary-beijing-in-summer-part-1/
They were featured in an article by China Daily:
19 January 2022 – Overcoming hurdles:
http://www.chinadaily.com.cn/a/202201/19/WS61e75db2a310cdd39bc81e61_6.html
See attached the full article: 220119 Krankin
Otto Bock
See this article of Business Beijing of 1 June 2007 to read how our Georg Hoffman started working with protheses. See: 070601 OttoBock
He presented his project in our club on 17 August 2021.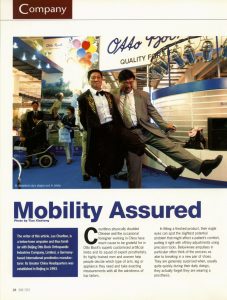 See earlier post: https://www.beijing1980.com/2021/09/15/rotary-beijing-in-summer/
That's January 2022
Happy to read this article: 220101 poledancing
I quote:
"Despite studios trying to promote the benefits, there is still a stigma attached to the sport by those who don't fully understand it.
When I tell some guys I'm a pole dancer, they say, 'Oh, you're a stripper?' I don't get offended, they just don't understand that pole dancing doesn't have to be linked to stripping. I think a lot of people still don't understand pole dancing and it's still very niche."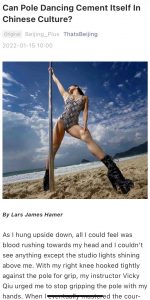 Indeed some in my circle made a scandal about pole dancing, being pretty ignorant about it.
See my earlier posts:
Pole dancing is a sport, https://www.beijing1980.com/2021/06/30/pole-dancing-is-a-sport/
Pole dancing is a sport (part 2), https://www.beijing1980.com/2021/06/30/pole-dancing-is-a-sport-part-2/