A look into the future
In Beijing Workers Stadium story2 focus on a CGTN video by French guy Olivier who shows us the Workers Stadium under construction and what it will look like.
The French video, French only, is best here.
also here on YouTube.
With English subtitles (not that complete), see here.
Some screenshots of the video.
The main underground parking entrance would be on gongti dong lu, see the last pic.
The subways
Lines 3 and 17 will have major stations on the corner of gongti bei and gongti dong lu.
It is planned to have an underground connection with Taikooli shopping center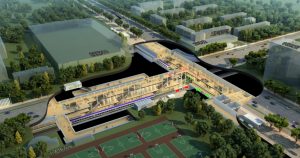 A good insight on the today situation and future subway lines in the area, see here and here.
Beijing Subway Line 3 (first phase)
open by the end of 2023
Dongsi Shitiao to Dongfeng – Length: 15.6 km – Stops:10
Future Transfer with Other Lines: Dongsi Shitiao: transfer with Line 2 and Gongren Tiyuchang (Worker's Stadium): transfer with future Line 17.
Extension Plan of Beijing Subway Line 17
The northern section of the first phase of Beijing subway line 17 is under construction. The whole project of the first phase of line 17 will cover 49.7 km with 21 stations. After completion, it will start from the Weilai Kejichengbei in the north, pass through Changping District, Dongcheng District, Chaoyang District, and finally reach the Jiahuihu Station in Tongzhou District in the south.
Future Transfer with other lines: Gongren Tiyuchang (Workers' Stadium): Transfer with Line 3
Tuanjiehu Station at the East side of gongti bei lu is serving Line 10.
Dongdaqiao station further down South from gongti dong lu is currently serving Line 6.
M28 (planned name) – before called CBD
Dongdaqiao to Guangqudonglu with 9 Stations line length of 8.877 km.
Planned opening: 2025.