Snow melting
After two days of snow and slippery roads the sun came out, time for exploring empty Beijing with the virus outbreak. It is supposed to be the last weekend before business is to start again on Monday 10 February. Not sure that will be a real event. Still so many restrictions in place and many people are not back yet.
Jumped on my bicycle and this time with my big helmet that provides real protection, including against the Wuhan coronavirus.
As temperature was well above zero C, roads were easier than 2 days ago (see the street close to my compound on 6 February).
The streets in normally traffic-clogged Sanlitun were very empty.
See the pics. For those familiar with this region, it shows Gongti Xi Lu, Gongti Dong Lu, Gongti Bei Lu, Sanlitun Nan Lu.
Not much open
The vast majority of shops, shopping centers and restaurants are closed, mainly imposed by the authorities. Soho Sanlitun completely dead, all locked up. Tai Koo Li still a bit in operation but really empty. The area of XL Bar and Restaurant totally fenced off, what the hell.
Some hardcore outlets are still open: Groovy Schiller's, Lily's American Diner, Mala Bocca (all strongly recommended). My usual Jenny Lou was open but I went again to Jingkelong Supermarket on Gongti Bei Lu. Busy, with basically everything available and at reasonable prices.
So, again filling up the fridge. Had lunch today with a steak from Jingkelong and (dried) mushrooms from Shanxi I found at home. All nice.
Fighting the virus
You read a lot of contradictory recommendations about masks and stuff, I take all that with a spoon of salt as we say.
See these interesting guidelines: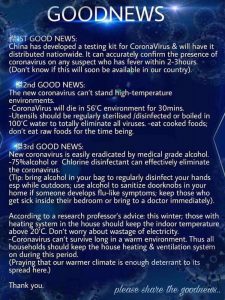 I also read a piece that says masks are often more dangerous than good. And that you throw away used masks after a short use and when wet. Etc. etc.
OK, allow me to dissent. Been using the same N95 mask for a few days. As pollution is rather mild, it does not become clogged. When I arrive home:
– booths, mask, gloves, scarf promptly go on top of the heating radiators (they are real hot) where they stay for hours. Virus killed.
– I do not touch my face before washing hands and that after emptying the shopping bags.
– I wash hands frequently, especially after touching the items from the supermarket. In the shops I use my (biking) gloves and very little my hands (except for Wechat pay on my mobile).
That's basically it.
Jiayou jiayou China and Wuhan
I was asked to make some clip to show how I cope/feel with the coronavirus in Beijing.
See here a segment (supposed to be the final segment).
(click on it to view)
They wanted it in "our" language and I went for French as more people can understand than in my native Flemish. I am waiting for the link once they post them online (two media). Done with zero preparation and automatic recording on the mobile, being Home Alone.