Big conference
We were invited to Yantai City in Shandong by the Foreign Affairs Department to take part in the 2023 Conference on International Exchange of Professionals and International Experts' Tour. I was there as rotating chairman of the Foreign Experts Group of the Belt & Road International Talent Fund, under the State Administration of Foreign Experts.
The Conference originally planned to have 300 attendants but I understand they finally had over 500. Location was the Crowne Plaza Yantai Sea View in Laishan District.
On 17 April we traveled by train from Beijing South Railway Station (after a coffee and snack) to Yantai, always comfortable.
Near every day we could hardly see anything from our hotel room as there was always fog coming from the sea. Only the last day we could finally see the sea!
Yantai has a population of around 7 million, located south of the junction of Bohai Sea and Yellow Sea. It is the largest fishing seaport in Shandong. Yantai is currently the second largest industrial city in Shandong, next to Qingdao. However, the region's largest industry is agriculture. It is famous throughout China for a particular variety of apple and Laiyang pear, and is home to the country's largest and oldest grape winery, Changyu.
Major industries are agriculture, wine and brandy, petrochemical, gold mining, biomedicine and many other.
This is the first post about Yantai, more to come about the Conference, factory visits and more.
Seafood and seafood!
On the evening of 17 April a first seafood dinner with friends in Xiao Hong Jing (Little Red Whale), supposed to be one of the best in Yantai. The choice is impressive: abalone, cockle, mussels, shrimps, prawns, oysters, scallops, crab, screw shells, octopus, fish, snails, razor shells, ostrich eggs, silk worm cocoon, worms, bugs, … The mussels were rally soso as I am usd to the top quality in Morel's restaurant…
The next day we went back again to the same restaurant, along with other foreign guests who brought vodka of I think 65%.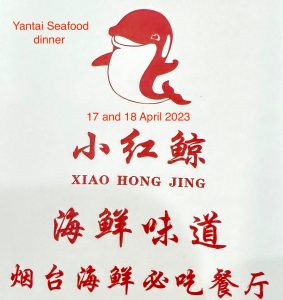 See the short video! (VPN needed)
I later discovered I had some seafood allergy, I blame the screw shells because it all started already in Beijing where I ate those for the first time. A bit annoying but found the right medicine cream (Eloson).